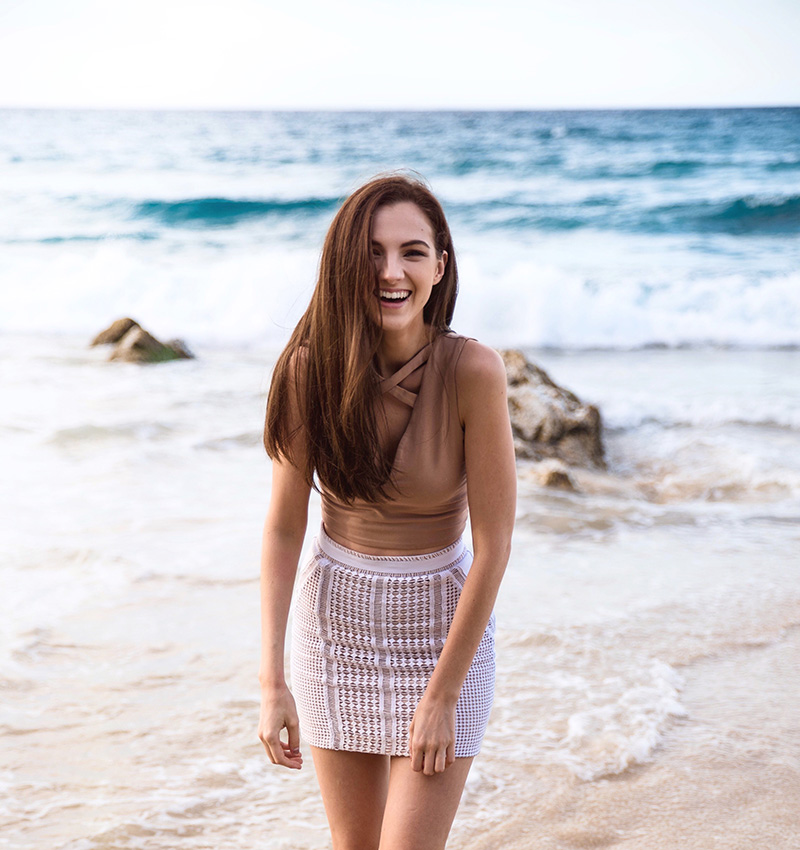 Happyyyyy weekend guys!
So, who agrees that it just sucks how so many of us look into the mirror and hate what's staring back?! I mean, here we are being gifted these incredible bodies, yet we're unhappy with them. I remember being self-conscious about my body throughout my teenage years (suffering from chronic illness didn't help either) and I look back and cringe at all that time where I could have been grateful for it, imperfections and all. However, it really isn't any surprise that most of us struggle with body image at some point in our lives. Lets's face it, we live in a world that is decorated with magazines and billboards created to make us feel like we're not enough so we'll buy their products. But guess what?! We ARE enough. Now, this is all well and good but having a positive body image doesn't happen overnight, it's something we have to work at every day. To make things a little easier, I've compiled a list of tips that you can apply from now on that will help you on your journey to LOVE your body:
WE'RE MORE THAN THE SUM OF OUR PARTS
You are MORE than that tummy roll or that stretch mark. You are MORE than the number on the scale or the size on the tag. Your body doesn't define who you are as a person, your character does. You are your thoughts, dreams and actions. You are your kindness and your passions. Whatever you do, please make sure you ground your self-worth in your character, not your appearance. You really are so much more than the reflection in the mirror.
WEAR CLOTHES THAT FLATTER YOU
Wear clothes that flatter YOUR body and make you feel confident. There are so many different types of clothes out there to cater for all the different types of body shapes. Find clothing that works with your body, not against it. AND don't feel bad if something doesn't look good on you, no one body is suited to every size and shape of clothing.
LOOK AFTER YOUR BODY
This is the most important thing you own, take care of it, don't punish or abuse it. Besides, there's something about taking the steps to become a healthier and stronger you that leave you feeling proud, which, in turn, gives you a whole new respect for your body.
BE GRATEFUL FOR WHAT YOU HAVE
Our bodies do SO much every single second of every day just to keep us alive so we have a LOT to be thankful for. Perhaps every time you start to criticise your body, remember all the amazing things it allows you to do? Check out this post for some serious body lovin' inspo.
REMIND YOURSELF OF ALL YOUR AMAZING QUALITIES
The problem is that most of us are always on the lookout for our faults, so much so that we're oblivious to all our amazing attributes, appearance or otherwise. Rather than critiquing your body, focus on the parts of your body that you love. Better yet, focus on all your amazing qualities that aren't appearance related. Are you kind? Are you smart? Are you really good at talking to people? Are you good at making people laugh? Also, just a reminder that you don't have to be the best at doing this particular thing, this is about you, not about anyone else (no comparing allowed!).
BE YOUR OWN BESTIE
Would you tell your best friend that she has a lot of stretch marks or that she has horrible legs or any other kind of mean remark?! No, I didn't think so. And you shouldn't talk that way to yourself either. Talk to yourself as you would talk to your best friend. The longest relationship you'll ever have is the one with yourself so you have to work on it.
BEAUTY ISN'T SKIN DEEP
There is so much that goes into what makes someone beautiful. Your beauty isn't limited by a perky butt or how 'on fleek' your eyebrows are, it's the way you treat others, it's overcoming challenges gracefully, it's how your face lights up when you're happy and SO much more.
YOUR BEAUTIFUL LIKE YOU, NOT LIKE HER
I remember when I was much younger I would think because I didn't look like someone who myself or society in general identified as beautiful then I wasn't beautiful. Silly, right?! We can admire someone else's beauty without questioning our own! Since when is there a limit on beauty?! AND not only that but beauty is objective to so many things like trends, personal preferences and cultural ideals; what's considered beautiful in some people's eyes isn't in others, so in the end, none of it really matters does it? Be true to YOU, rock what your mama gave ya' and put all your energy into being beautiful on the inside.  
SURROUND YOURSELF WITH POSITIVE PEOPLE
Limit the amount of time you spend with people who are constantly trying to bring you down or who criticise your body. Instead, surround yourself with people who make you feel GOOD. Perhaps even be aware of spending time with people who are constantly putting themselves down, ever heard the saying by Jim Rohn that goes "you are the average of the five people you spend the most time with"? 
BE AWARE OF THE CRAZY WORLD WE LIVE IN
Like I said in the beginning of this post, just be aware that we live in a world that encourages dissatisfaction. Advertising can be a sneaky lil' thing if you're not aware of it. All of those magazines saying you have to look a certain way to be considered beautiful are trying to make you feel inadequate so you buy their magazine in order to be beautiful. Also be aware of all the photoshop in magazines, those girls undergo hours of hair and makeup and countless photos until they narrow it down to the final couple of shots. Of course they're still naturally beautiful, but what you see in those magazine just isn't realistic. Read my post 'No One Is As Cool As Their Instagram' to see how social media can also be misleading and why you shouldn't compare yourself to anyone online!
EVERYONE HAS THEIR INSECURITIES
Sometimes we forget that we're not the only ones that have insecurities. Most people, even those you would never suspect and whose bodies seem 'perfect', have insecurities. I'd even go one step further to say that most people are too concerned worrying about their own insecurities to notice yours. Although it's unfortunate, it can be reassuring to know you're not in this alone.
BE KIND TO YOURSELF AND OTHERS
Be patient with yourself and understand that perfection doesn't exist. Then, be kind to everyone else because when we like who we are as people, we really don't care about a little bit of cellulite here and there.
LOVE YOUR BODY WHILST IMPROVING IT
So, I know a lot of you reading this are on my blog because you want to be healthy, so I felt it's important to remind you that you can love your body whilst wanting to improve it at the same time. In fact, I don't believe real transformation happens until we love the body we're in, right here, right now. We take care of our bodies because we want to and not because we feel like we have to.  
---
From now on, make a promise to yourself that you won't critique your body, instead, you'll focus on these tips to develop a healthier relationship with your body. Have any other tips? Share them in the comments below! Good luck guys! Let's make body positivity the new trend 🙂 xx