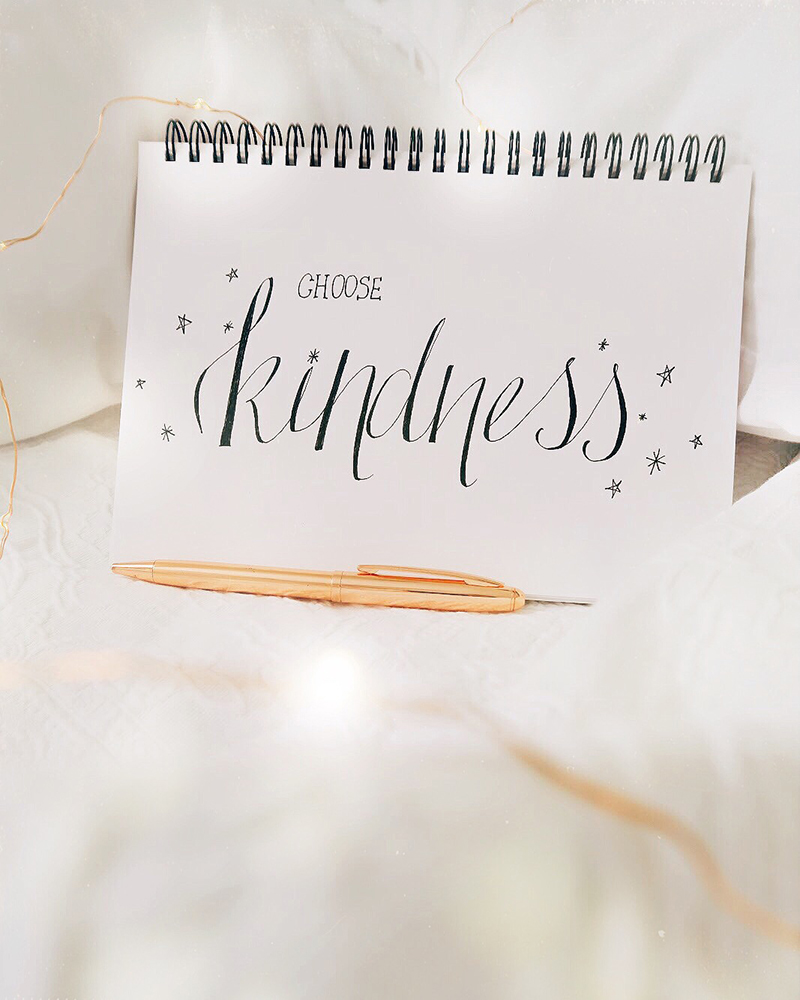 Ok so lately something has been on my mind and that something is kindness. Or, I suppose, a lack there of?
Basically, this was spurred on by a couple of things, but particularly by a lil' altercation I had with someone over instagram DM's haha! Long story short, this women was being super rude to me (come on girls lets lift each other up and not pull each other down!) and the funny thing was, her Insta feed portrayed a person that was exceptionally kind; she even had the phrase 'good vibes' written in her bio. How ironic right?!
…And then it occurred to me, she's not alone, I've known several people to be not-so-kind despite declaring across social media how important it is to be kind… Now, don't get me wrong, I am ALL for promoting kindness, but it's almost as if their kindness comes with terms and conditions? Surely true kindness is one that is unconditional? And then all of a sudden, my own hypocrisy appeared. How many of us can actually say we show unconditional kindness? Because I can't either. Sometimes I find it so damn hard to be kind to people that haven't shown me kindness… Hello terms and conditions.
From what I've seen in my mere 24 years, more often than not we reserve our kindness for people we like or can relate to, but c'mon that's easy. The real challenge is showing kindness regardless of how people treat you, regardless of any jealousy you have towards someone, regardless of where you're at in your life, regardless of stereotypes, regardless of occupations, regardless of cultural differences, regardless of age, etc.
I mean, imagine a world where we all possessed a kindness that knew no boundaries.
Unfortunately though unconditional kindness doesn't always come easy. Perhaps that's why it's so elusive? For me personally, showing kindness to people who have not shown kindness towards me has been one hell of a learning curve. At first I thought by being kind to these people I was just being a giant doormat with a flashing welcome sign inviting them to walk all over me. I figured what's next, I'm going to high-five them on the way in and throw them a party?! Surely they don't deserve my kindness.
That was until I realised that it really doesn't have anything to do with them. Why should I let my character be dependent on who I'm around? If we put the focus on them we're simply reacting to what they're dishing out but if we put the focus on ourselves we can try to live up to our best self regardless of what they're doing or saying.
I find this is where having self awareness is EVERYTHING. If we're in autopilot mode we will simply just react, believing all our actions there on are justified because they 'deserve' it. Even the kindest of us can fall prey to our emotions and act in a way that doesn't live up to our best self. But if we're self-aware in the moment we can assess our emotions and behaviours without judgement and then choose not to simply act out of emotions, and rather focus on a response that better fits our best self.
Another thing I've learnt is forgiveness, because if you really want to be a kind person without limitations then you just gotta learn to forgive. Now that I've (mostly) gotten over my stubbornness (lol) I can see that, again, it's more about me than them. By forgiving them I'm not saying what they said or did was acceptable, I'm merely freeing myself from the pain of it and moving on.
And last but certainly not least, I've learnt to view people as unfinished projects. By thinking of people as a final product we can think 'they should know better' but hey, sometimes they just don't. Sometimes we have to give people room to move and grow without condemning them based on one stage of their growth. And let's face it, we're all going to make mistakes at one point or another and hope that people allow us the opportunity to grow and learn from it.
"It's not our job to play judge and jury, to determine who is worthy of our kindness and who is not. We just need to be kind, unconditionally and without ulterior motive, even – or rather, especially – when we'd prefer not to be." Josh Radnor.
So with all that said, lately I've been trying to live and breathe an unconditional type of kindness, especially in the face of not-so-kind people (including the insta DM lady ha) and I'll tell you what, coming from a place of love and not hate is so much more rewarding!
Anyways, I'm not entirely not sure what the point of this post is but nonetheless I felt compelled to share what was on my mind. Maybe it will encourage self-growth in one of you? Or perhaps it will inspire you to broaden your perspective on kindness? And if that's the case, this post was completely worth it.
I hope you're all having a wonderful week so far! I'd love to hear some of your thoughts on this topic in the comments below 🙂
Chanté, xo