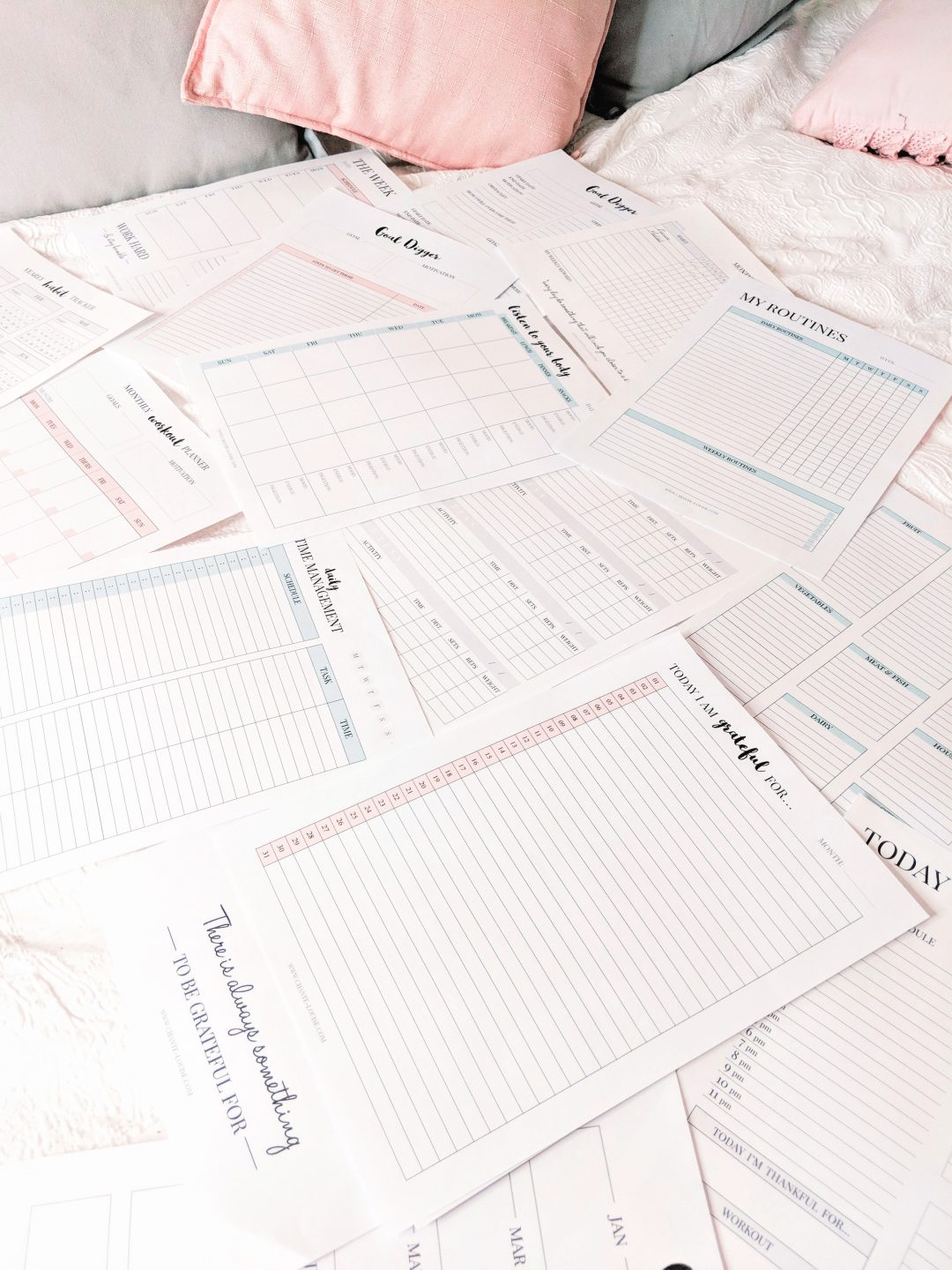 Guys, BIG NEWS.
I launched a shop right here on the blog and I released my own line of printable planners! I'm SO excited to finally have them out and available to all of you wonderful people. Fun fact, I actually started working on these little bad boys last summer. Yep, one whole YEAR ago. Seeing as last year was my final year at uni as an undergrad I knew I had to be as organised as I possibly could so I went searching for a bunch of planners only to come up empty handed because I couldn't find exactly what I was after… So, instead, I decided to teach myself how to use illustrator and make my own. It was then whilst I was making them that I started thinking about YOU guys and how these could improve your life. So here we are: a whole line of printable planners created to help you become your healthiest, happiest and most organised self. YAY!
Now, let's just back it up for a minute and talk about what printables actually are for those of who you might not be familiar with them. Basically, printables are downloadable files that you get access to instantly because they're digital (as opposed to a regular non-digital item that requires shipping). So, once you purchase the planners you like (FYI I kept them super affordable), several links will appear on the page as well as in your email inbox, you then click on these links to access the PDF planners which you can then save onto your computer and print whenever you want! I even kept all the planners undated so you can re-print them any time of the year no matter which year it is.  Easy-peasy lemon squeezy. 
So in total I created 11 different sets:
As you can see each set contains several types of planners or the same planner available in different variations (e.g. horizontal/vertical or has extra writing space). These sets can also be bought in bundles (Health & Fitness Bundle or Life Planner Bundle) OR you can purchase the Ultimate Collection which includes every single planner! Oh and each planner, no matter if it's in a set, bundle or collection, comes in THREE different accent colours: blue, grey and peachy pink. And you don't have to worry about choosing a colour because I've included ALL three colours in every downloadable file, meaning you can mix and match colours whenever you like.
I really wanted these planners to not only help you all (& me!) stay organised but to also reflect health and happiness and I feel like I've achieved that. That's why I created things like gratitude journals to fuel positivity and food diaries that help you tune into your body and switch the focus from calories and measurements to how you actually feel (think mood, digestion and energy). I even incorporated cute little quotes for motivation and snuck in a few healthy lifestyle bits and pieces on the daily planners to remind you to take care of yourself as well as your work. Because no matter how organised you are, it's your health and happiness that will keep you inspired and determined.
Anywho, just a quick thank you to everyone who has shown me and this shop a whole lot of love already (Instagram saw it first – make sure to follow!). It means SO much to me. I did this whole process by myself from start to finish, everything from designing planners to creating shop graphics, and to see it finally up and complete is such a wonderful feeling. Not to mention the fact that I have always had a MAJOR soft spot for planners so to create a line of my very own is the best! I just hope they bring you guys as much happiness and organisation as they do me <3
HAPPY PLANNING FRIENDS! xo