Hey everyone!
In need of some healthy breakfast inspo? I have you covered. Here are 10 ridiculously easy, yummy and nutritious breakfast ideas. You're welcome!
Berry Quinoa Porrdige
Not going to lie, this is my go-to breakfast most mornings. I freakin' LOVE it. It's such a great source of complete protein, fibre and complex carbs, creating a balanced meal that keeps keeps you satisfied for longer. Aaaaand it's really yummy. Click here for the recipe.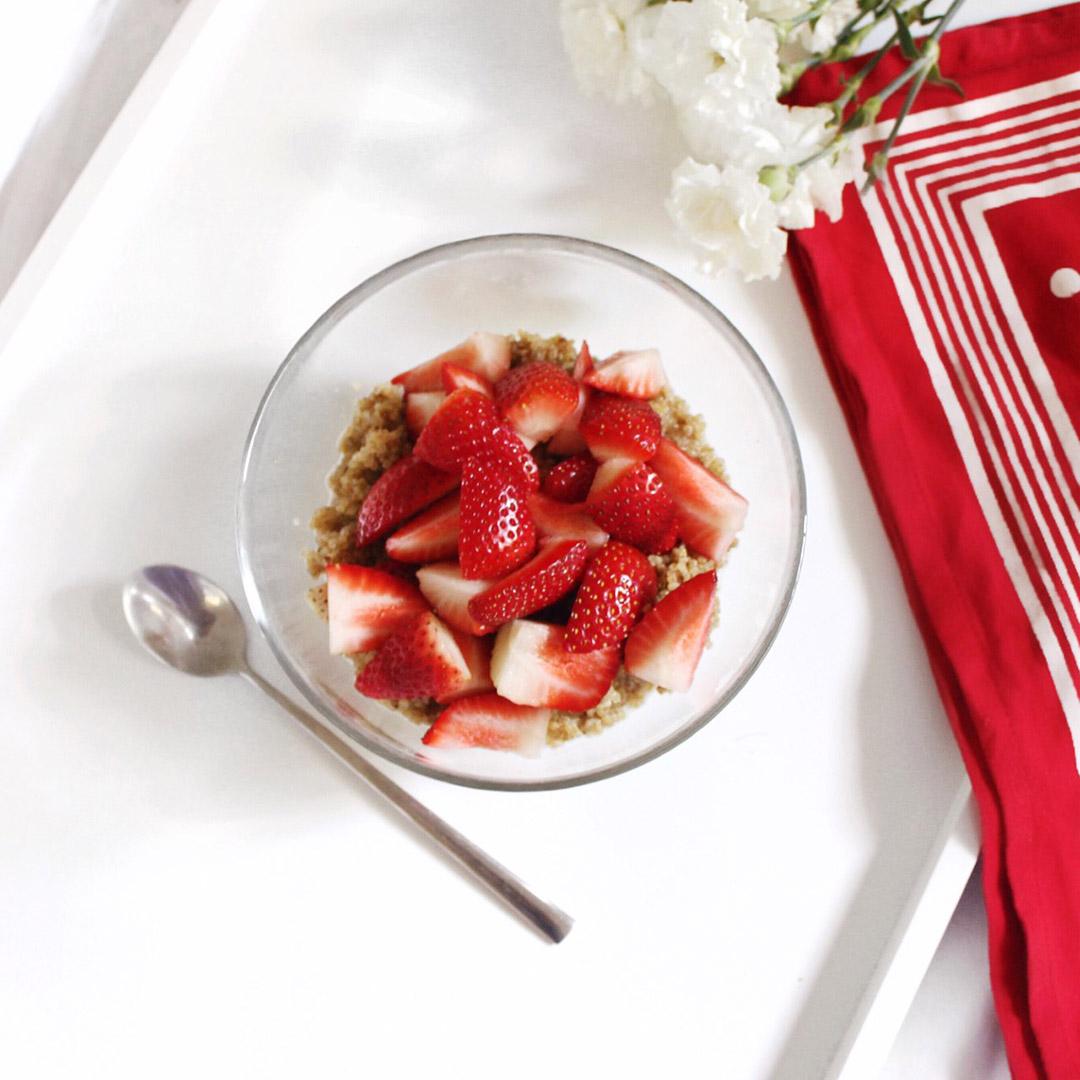 Chocolate Chia Seed Pudding
For those mornings when you're craving something sweet… Seriously, this tastes more like dessert than it does breakfast. Tip: pile a whole lot of berries on top to add more nutrients! Click here for the recipe.
Eggs and Avocado Toast
Good ol' avocado toast never fails. I still can't believe I hated avocados for most of my life, because I cannot get enough of them now! So, toast two pieces of wholegrain bread, mash some avocado on top, sprinkle a dash of salt and pepper and then layer a fried egg on each! I sometimes like to fit some baby spinach in there too.
Egg and Veggie Scramble
Slice up a whole lot of veg, sauté them in a pan with a little bit of cold-pressed extra virgin olive oil, pour in a whisked egg and scramble. I'll usually have some wholegrain toast with it too! The great thing about this is that you can pre-slice all the veggies the night before or earlier during the week so this only takes 5 minutes to make.
Savoury Slice
This slice is not only ridiculously yummy, it's so easy to make and lasts for several days, which means all you have to do in the morning is eat it – doesn't get much easier than that!! Click here for the recipe.
Sweet Potato Fritters
Slightly obsessed with anything sweet potato. Especially when they're in fritter form. Fritters are super easy to make, they're versatile and they can be refrigerated for later use. Although I haven't yet taken proper measurements for my own, here is a really great recipe from the Merry Maker Sisters. I will sometimes add in a little flour and zucchini into the mix too!
Banana Pancakes
Pancakes. Need I say more?! Here is a really great basic recipe that only contains 3 ingredients… Yep, 3! I would top these with a little bit of maple syrup and a handful of berries and sliced banana – YUM.
Smoothies & Smoothie Bowls
Lately, I cannot get enough smoothies. In fact, I had one for breaky this morning and it was ahhh-mazing. They are such a great way to get in a whole heap of fruit and veg. If you do choose to have a smoothie as your main meal, be sure to make it more balanced by adding in some protein (e.g. cooked quinoa or protein powder) and healthy fats (ground flaxseed or avocado). Oh and if you're wondering what the heck a smoothie bowl is, it's just a thicker smoothie that's poured into a bowl. Rather self-explanatory, but I thought I'd share that with you anyways ha! Here are some great recipes to try: Good Morning Green Citrus Smoothie, The Easiest Breakfast Smoothie & Berry Superfood Smoothie Bowl.

Healthy Breakfast Muffins
Muffins are another one of those great recipes where you can cook up a batch one day and then have them for breakfast throughout the week, which is so handy when you have an action-packed morning. Why not try these Gluten Free Blueberry Muffins, Carrot Cake Muffins, Banana Chia Breakfast Muffins or even Muesli Muffins. You could even pair these with a smoothie!
Beans on toast
Classic beans on toast have always been a staple in my house. They're even better when they're homemade like in this recipe from BBC good food. However, if you really are strapped for time you can always grab some canned baked beans, just be on the look out for low sugar and low salt options! (If you're unsure how to read food labels, check out this post)
[wc_divider style="solid" line="single" margin_top="" margin_bottom=""]
Hopefully this has given you some inspiration for breakfast. As you can see, having a breakfast that is easy and quick to make, yet nutritious and delicious is certainly do-able!
Do you have any other breakfast ideas?! What's your fave breaky? Share in the comments below 🙂
Anyways, I should probably get back to my assignment now, I'll talk to you all again very soon! xo