Days by the sea. The sunshine on your skin. Impromptu outdoor barbecues. Christmas songs on repeat. I don't know about you, but I am SO excited for the warmer seasons. And one of my favourite things of all? The food. With the changing seasons comes fresh seasonal fruit and vegetables to experiment with. So, with that said, today I'm sharing with you all my favourite easy-to-make, healthy breakfast recipes to get you in the mood for Spring/Summer.
First up, Chocolate Chia Seed Pudding & Yoghurt Parfait
…Because some mornings need a little extra sweetness. This breaky is so chocolatey and creamy, you'd think it was dessert. And it includes a decent serve of berries, which are low GI and packed full of nutrients and fibre. Not to mention the chia seeds and yoghurt collectively are a great source of fibre, protein, omega-3 fatty acids AND probiotics!
For the chocolate chia seed pudding // The night before: combine 1 ¼ cup of milk, ¼ cup of chia seeds, 2 tbsp of cacao powder and 1 tbsp of maple syrup into a bowl or jar and mix it well. Let it set over night.
For the parfait // In the morning: add on top your favourite yoghurt (my all-time fave is this Vanilla Bean Coconut Yoghurt), chopped berries and granola (the low sugar kind of course – when you're grocery shopping make sure the granola has no more than 15g of sugar per 100g, 0r 20g if it contains fruit).
Tip: to turn this into a chocolatey desert I use this yummy granola/cereal.
Next, Spring Vegetable Egg Skillet.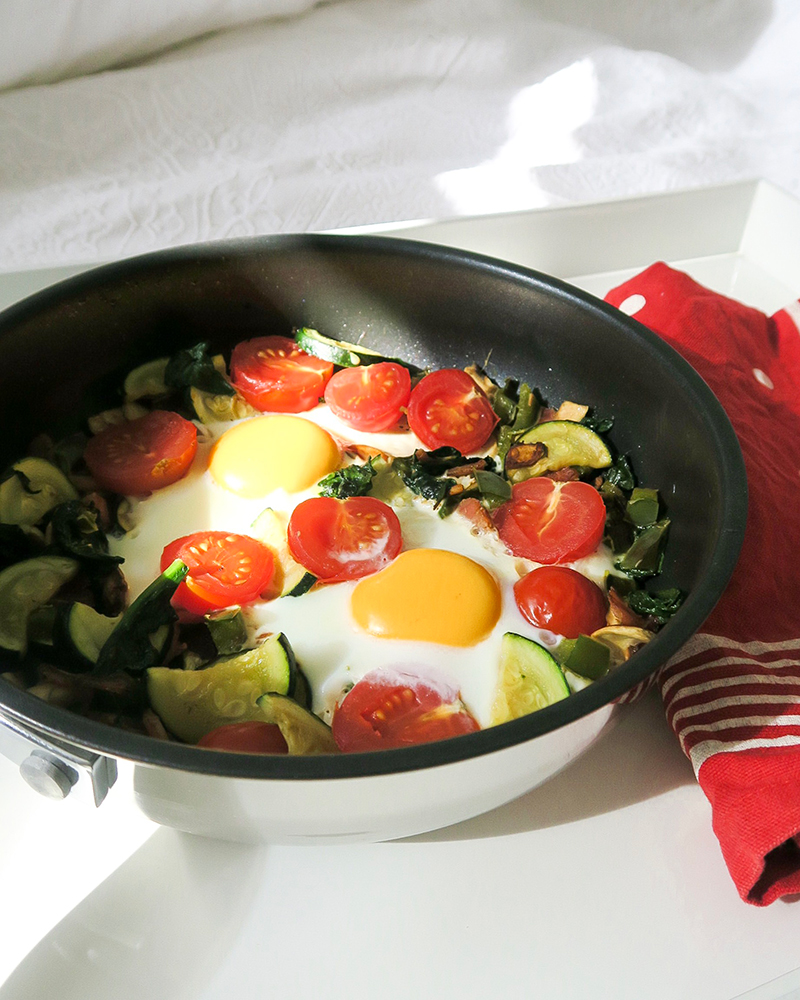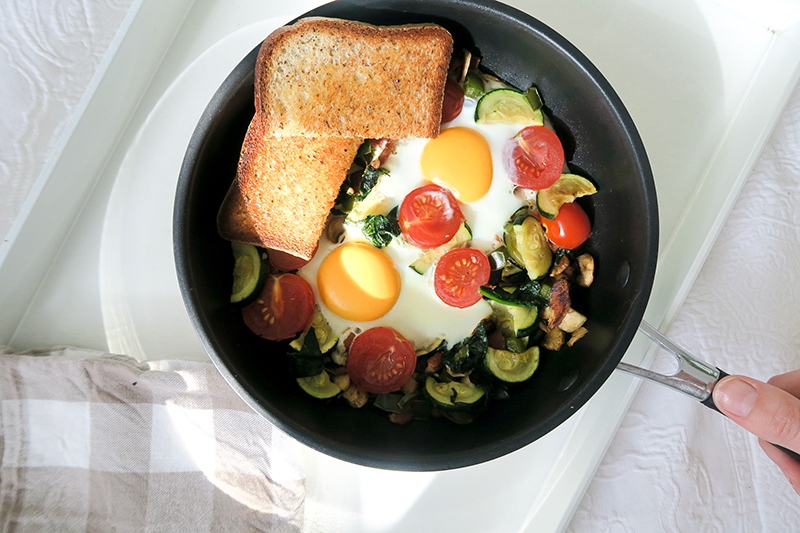 One of my all-time favourite meals is a veggie egg skillet and what better way to celebrate Spring than to use seasonal vegetables (or in the tomato's case, fruit). Besides, eggs are a great source of protein, among other things, and perfect for recovery after those early morning workouts. Oh, and why isn't veggies for breakfast more of a thing?! They taste so good this way and it kickstarts your five-a-day.
What you'll need // olive oil, garlic clove, zucchini, mushrooms, tomato, baby spinach, capsicum and eggs. You could also add in a handful of chopped bacon whenever the bacon and egg cravings hit! The quantity of ingredients is totally up to your personal preference. In the photo, I used ½ zucchini, 5 cherry tomatoes, 4 mushrooms, 2 handfuls of spinach and 1/3 of a medium sized capsicum.
How to make it // With the small pan/skillet on low-medium heat, lightly spray with olive oil and add diced garlic. Chop up and add the zucchini, mushrooms, spinach, capsicum and tomato (I personally prefer to add the tomato towards the end because I don't like mine overly cooked). Once the veggies are cooked, dig a little well for the eggs. Enjoy with a slice of buttered wholemeal or seeded toast.
Third, Mango Smoothie Bowl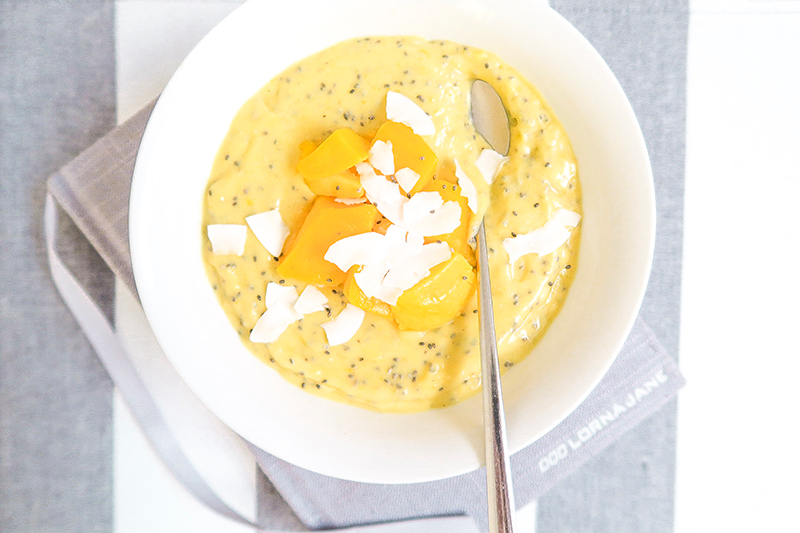 Because nothing goes together quite like Australian summers and mangoes. These are perfect for those sweltering mornings where the idea of cooking makes you cringe. Aaaand they are the easiest thing to make, ever. So it's a win-win.
What you need // 1 frozen banana, 1 cup of frozen mango, ½ cup of greek yoghurt (I love this one) and 1 tbsp of chia seeds.
How to make it // Place the chopped fruit, yoghurt and chia seeds in a blender. Sprinkle with yummy things – I went for some mango chunks and coconut flakes. Told you it was easy!
Tip: you can buy frozen fruit from the supermarket, or peel and chop fresh fruit up yourself and place them in sandwich bags to keep in the freezer.
Another tip: smoothie bowls are the perfect meal to experiment with. You can add in things like LSA for more fibre or if you don't want to use greek yoghurt you could substitute it for coconut water or probiotic water (yep, I recently learnt that is a thing – I'm loving the PERKii mango and passionfruit probiotic water – check it out here).
Lastly, Avocado Toast Two Ways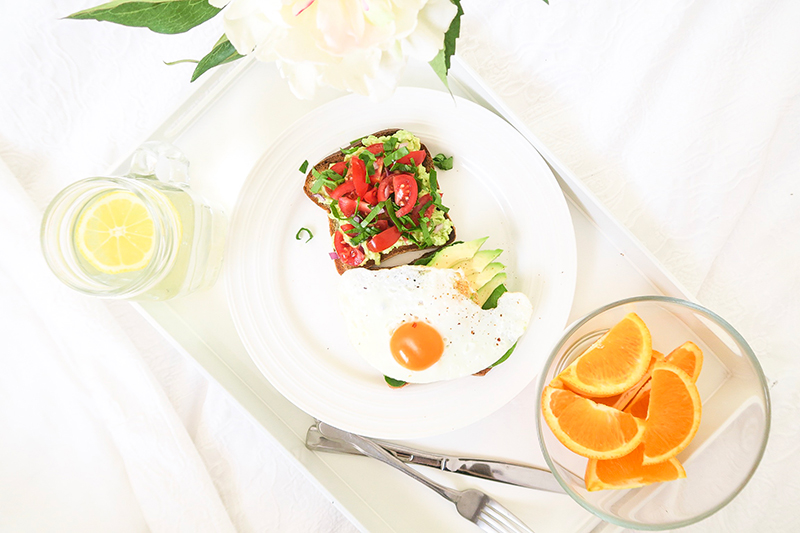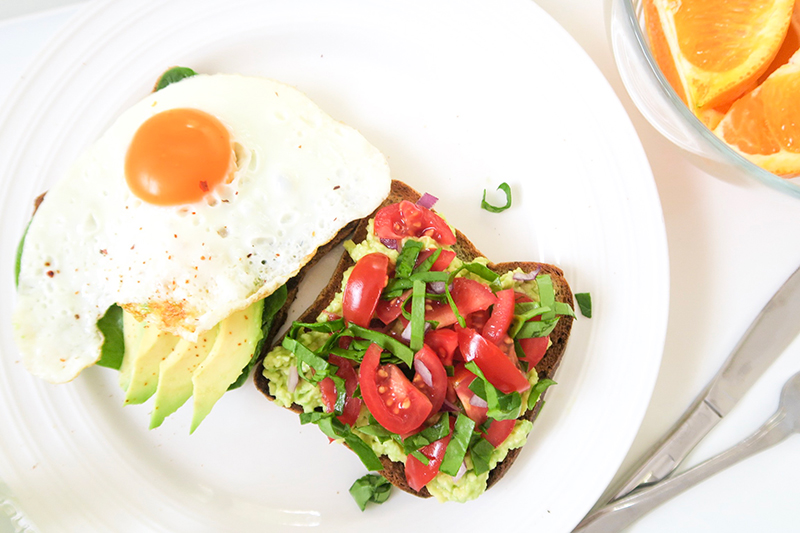 Avocado toast for breakfast? …Ground breaking. And if you didn't get that Devil Wears Prada reference, you missed out (BRB, whilst I go buy one of Lyst's floral dresses for Spring – see here– how gorgeous are they?!). But seriously, I am all about simpler breakfasts, especially when it involves avocado… because, well, it's avocado. In saying that, I like to change up the typical smashed avo on toast with a few yummy additions – think eggs, tomatoes and herbs.
1.
What you need // avocado, lemon (or lime), wholemeal/seeded bread, cherry tomatoes, red onion and baby spinach or herbs (e.g. cilantro).
How to make it // In a bowl, mash avocado and squeeze in some lemon or lime. Spread onto wholemeal or seeded toast and top it with quartered cherry tomatoes, diced red onion and spinach/herbs.
2.
What you need // avocado, wholemeal/seeded bread, baby spinach, egg and chilli flakes
How to make it // Fry or poach an egg and place it on top of wholemeal/seeded toast with baby spinach and avocado. Top with chilli flakes or any other seasoning you prefer.
Happy eating everyone!
xo,
Chanté
WANNA PIN IT?