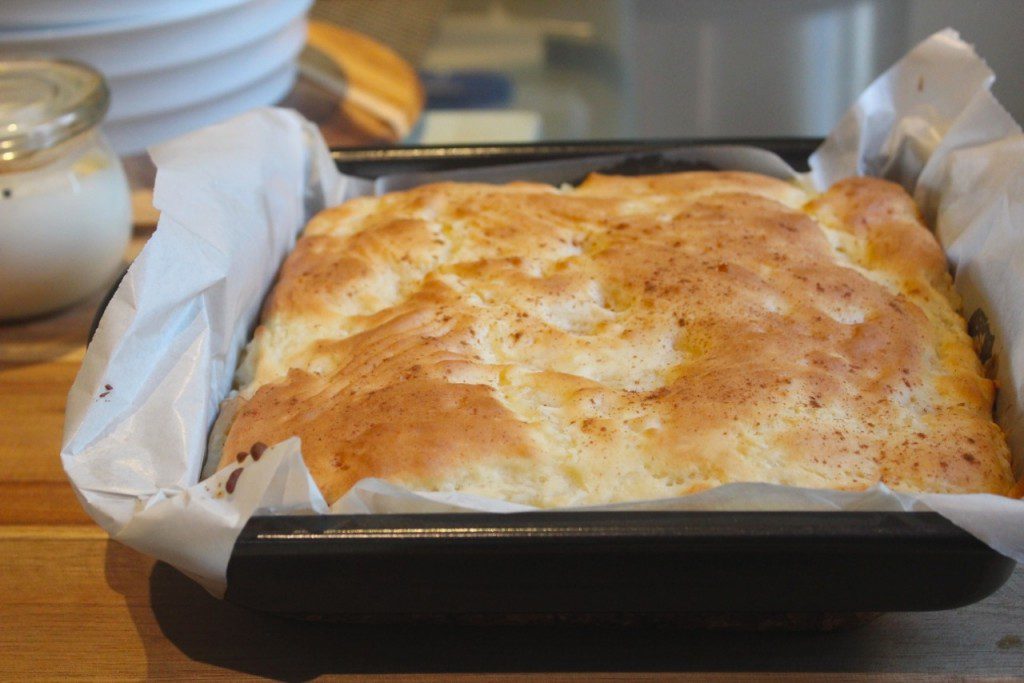 This pear slice is SO yum and is great for those of us with sensitive tummies! It's also dairy-free, gluten-free, nut-free AND is suitable for anyone sensitive to amines/salicylates/glutamates/additives.
This recipe is adapted from 'friendly food', a book that is specifically designed for food intolerances and made by the allergy experts at the Royal Prince Alfred Hospital Allergy Unit. The recipes provided in their book avoid common allergies, as well as additives and problem chemicals (amines/salicylates/glutamates). Since intolerances are still considered a "grey area" in the medical world and there isn't much guidance on how to deal with them, this book has been a lifesaver!!! I highly recommend it to anyone with intolerances or allergies. You can find it here [wc_fa icon="arrow-circle-right" margin_left="" margin_right=""][/wc_fa] http://www.sswahs.nsw.gov.au/rpa/allergy/resources/foodintol/friendlyfood.html
Prep time: 15 minutes
Cooking time: 30-40 minutes
Makes about 20 pieces
Ingredients:
Canola oil, for greasing
225g (1 ½ cups) gluten-free self-raising flour
½ teaspoon gluten-free baking powder
185g (¾ cup) caster sugar (This is the amount suggested in the original recipe, however I only use ¼ cup of caster sugar as I find it's sweet enough from the pears)
2 eggs
60ml (¼ cup) pear juice (from canned pear halves in syrup)
4 canned pear halves, mashed with a fork (do not purée them)
60ml (¼ cup) canola oil
125ml (½ cup) cold water
[Optional: dust with pure icing sugar, to serve.]
*If you do not wish to make this gluten-free use 90g ( ¾ cup) plain (all-purpose) flour and 90g ( ¾ cup) self-raising flour instead of the gluten-free self-raising flour and gluten-free baking powder.
Method:
Preheat the oven to 190o. Grease an 18x28cm baking tin and place baking paper over the top (as seen in the picture).
Sift the flour and baking powder into a bowl and then add the sugar.
In a separate bowl, combine the wet ingredients: eggs, juice, oil and water.
Add the dry ingredients to the wet ingredients and mix thoroughly.
Spread half the batter into the prepared baking tin. Then spread the mashed pear over the top and finally, spoon the remaining batter over the pear so that it is completely covered.
Bake for about 30-40 minutes, or until golden brown.
Let it cool slightly in the tin and then turn out onto a wire rack to cool. Once fairly cool, carefully peel off baking paper.
TIP: This is a moist slice so it is best to eat on the day it is made. However, if you store it in the fridge, it should be fine for another day or two.
Enjoy everyone! x