Cooking-challenged people look no further! Not only are rice paper rolls super healthy, they are ridiculously easy to make and allergy-friendly (gluten-free, low-chemical, dairy-free, nut-free, lactose-free). They can even be made into spring rolls– a lightly fried version.
Ingredients
2 chicken breasts (free range, hormone free)
¼ leek finely chopped
2 cloves of garlic
1 tsp dried or chopped chives
¼ small red cabbage
1 grated carrot
½ cup finely chopped baby spinach leaves
Olive/coconut oil
Rice paper wrappers (typically found in the Asian isle in grocery stores)
125g vermicelli rice noodles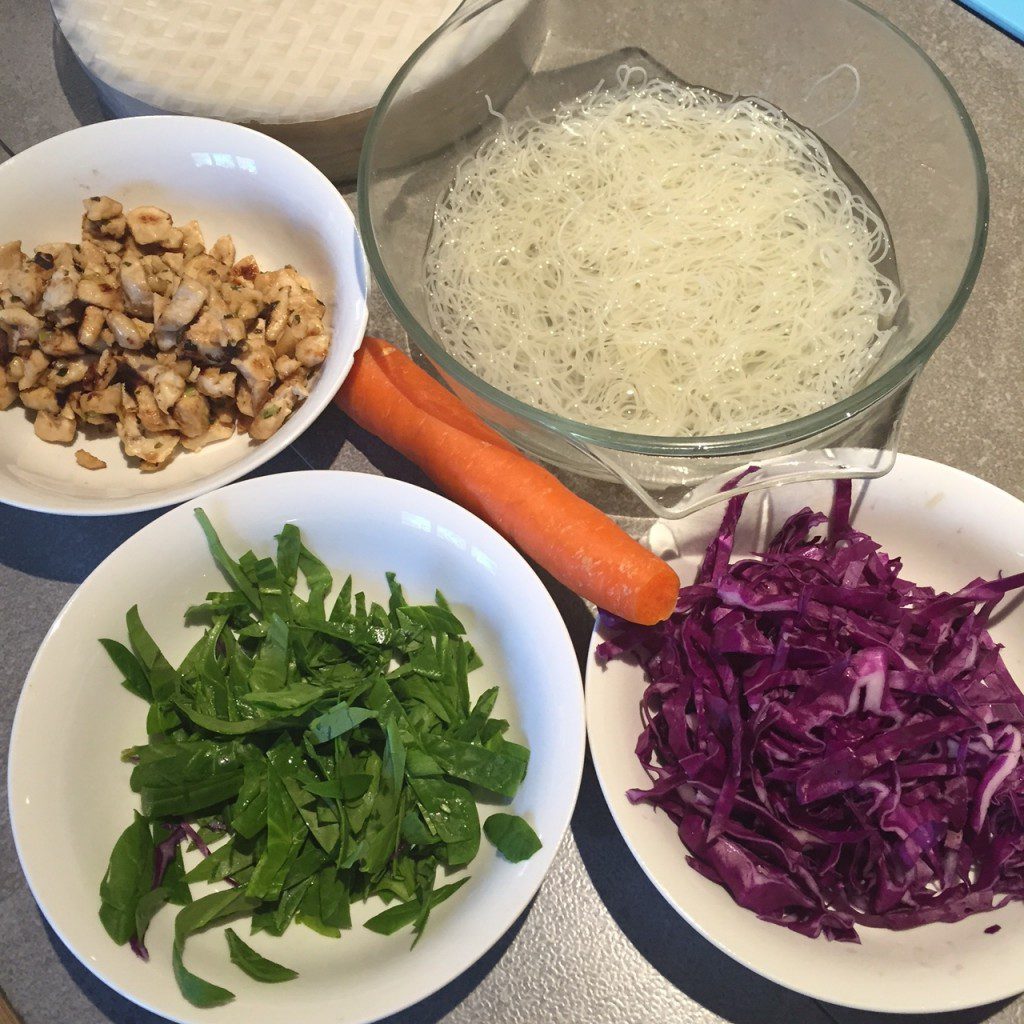 Method
Finely chop chicken breast and add to a lightly greased fry pan with finely chopped garlic and leek. Cook until golden and add chopped or dried chives, toss through and set aside.
Place rice noodles in a bowl and cover with boiling water to soften (approx. 5mins). Drain when ready.
Finely slice cabbage and baby spinach, grate carrot and set aside.
Soften a rice wrapper by placing it in a wide shallow dish of warm water until it has softened (approx. 10-30 seconds), then take out and lay on a damp (clean!) tea towel.
Place assortment of chicken, noodles, cabbage, carrot and spinach leaves onto rice wrapper, fold the sides in and roll up to enclose it. Continue until ingredients are used.
Enjoy!
Alternative- Spring Rolls
Once the above steps have been completed, shallow fry the rice paper rolls by placing a couple tablespoons of olive/coconut oil into the pan and heat. Make sure that the rolls do not touch each other as they will stick together!
Turn them over occasionally so all sides cook fairly evenly and add more oil if needed (try not too use too much).
Once cooked, place them on a plate covered with paper towel and lightly press the rolls into the paper towel to drain them and remove excess oil.
As always, don't be afraid to experiment! Try adding in other veggies or herbs such as mung beans, bamboo shoots, capsicum, avocado, cucumber, sprouts, lettuce, coriander, mint… whatever you like! You could even have them vegetarian/vegan. Let me know what combinations you created 🙂 x