Introducing SAVOURY SLICE– one of the easiest, yummiest and most versatile recipes. It can be served warm or cold and is an amazing breakfast alternative and lunch-box filler. It is also a great way of tricking people into eating veggies… You would never know that there was 3 cups of zucchini hiding in there!
I make it gluten-free and lactose-free by substituting in gluten-free flour and lactose-free cheese. You can even make it vegetarian simply by replacing the bacon for mushrooms. Don't be afraid to experiment– try adding in other veggies!
Ingredients:
5 eggs
3 cups grated zucchini
1 cup grated potato
½ bunch shallots or ¼ finely chopped leek
½ cup canola oil
1 cup grated cheese [OR lactose-free cheese]
1 cup of chopped bacon [optional]
8 cherry tomatoes cut in half [optional]
1 cup of self-raising flour [OR gluten-free flour]
½ tsp dried basil or chives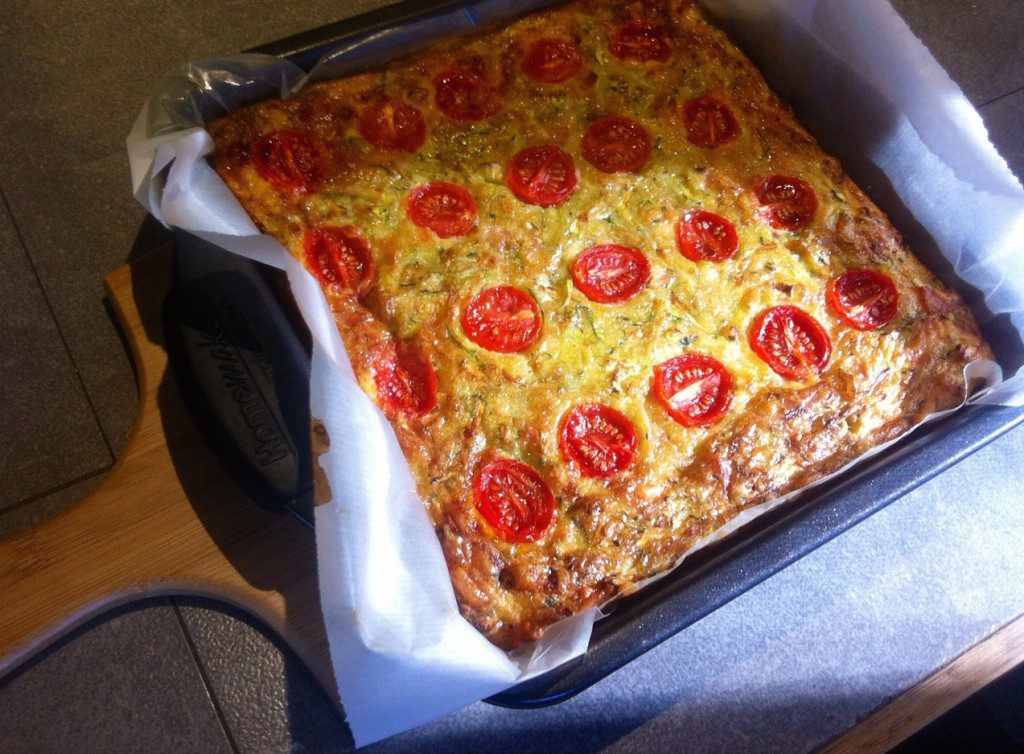 Method:
Crack eggs into mixing bowl and whisk well.
Add grated zucchini, potato and chopped shallots or leek to egg mixture.
Add oil, cheese, bacon and self-raising flour.
Add dried basil or chives and mix well.
Line a 18cm x 28cm baking tray with baking paper
Pour mixture into tin evenly.
Lightly press halved cherry tomatoes on top of mixture, spaced evenly (as seen in picture above) [optional]
Bake in moderate oven for approx. 40 minutes or until golden brown.
When cool, cut into squares.
Enjoy!! Let me know what you think 🙂 x