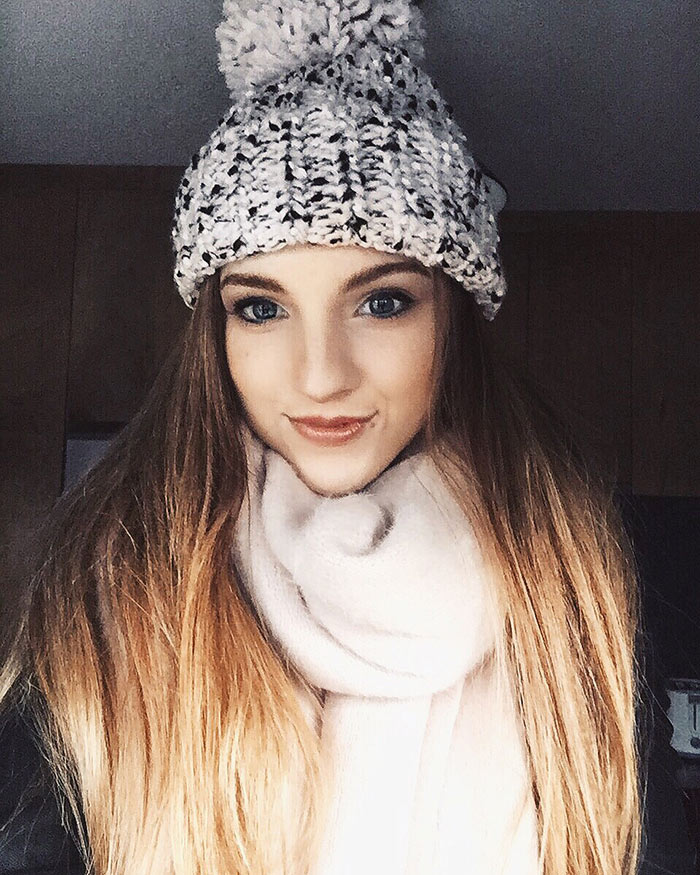 FRIDAY // 14th of July continued..
Hmm, so where were we? Oh yes, that's right, we were stranded in the Tasmanian bush as darkness approached. Well, plot twist, we didn't actually end up dying from frostbite like I had envisioned (because, you know, the fact that I'm alive writing this totally didn't give it away). Instead we calmly went searching for any sign of a slight path or a pink ribbon. Ok, Ryan searched calmly and I may or may not have done a fantastic impersonation of a crazy person. The details aren't important. I almost wished we had left a trail of breadcrumbs behind us like my mum had suggested (don't worry, she was kidding… I think) but considering my luck they would have lead to some witch's candy covered gingerbread doorstep. BUT, lo and behold, we found the freakin' path. We then proceeded to walk back to the main track as fast as humanly possible. Phew, that was a close one. I nearly kissed the ground in elation (the key word being 'nearly' – my better judgement came through just in time). #Blessed. From there we went and got the most amazing pizza (because let's face it after that ordeal pizza was in order) from a place called Solo Pasta and Pizza and fell asleep later that night watching movies.
SATURDAY // 15th of July
Another big day of waterfalls. Saturday's agenda consisted of Strickland Falls, Secret Falls (except ironically, this one wasn't actually a secret), Myrtle Falls and much to my despair, Ryan wanted to give the hidden waterfall from yesterday another go. So we started off at Strickland Falls and once we found the track (tip: about 30 seconds into the track it suddenly stops and you have to cross the shallow water and go up the Little Rock wall) it was only a 2 minute walk to the waterfalls. I'm not sure what amazed me more, the waterfall or the fact that Ryan saw a guy walking around shirtless whilst I shivered in my five layers of thermals. We then headed back to my arch nemesis, the hidden waterfall, whilst it was still early on in the day to give us plenty of time. And you'll never believe it, WE FOUND THE WATERFALL. I even spotted the missing pink ribbon from the night before within 0.0001 seconds. Yep, turns out it was actually a really easy track… So easy, in fact, that it made me look like bit of an idiot after yesterday's dramatics. But, can we just take a minute to remember that when we were there yesterday the sun was setting so it was hard to distinguish things and we could have easily gotten lost in the cold dark forest?! Or at least that's what I said to Ryan every time he made fun of me for it. Lol.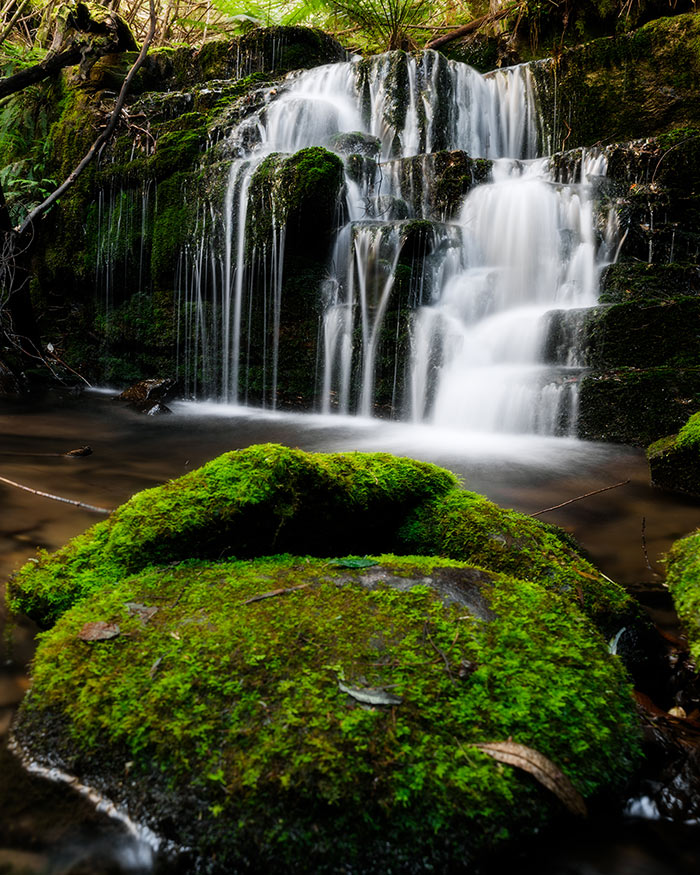 Anyways, despite Ryan's camera tripod breaking in half (super bad timing) he still got some amazing shots and the waterfall itself was worth the nearly dying of frostbite (yep, I'm still going with that story). Seriously though, it was such a beautiful little spot. After getting back to the car we then went exploring to find a hardware store and temporarily fix Ryan's tripod before we headed to Secret Falls and Myrtle Falls. After yet another really easy walk (could totally get used to that) we found Secret Falls which was the cutest little waterfall tucked away behind rock walls. We then continued alone to Myrtle Falls which by the photo we found online was quite impressive so I was excited. However, the powerful gushing waterfall we expected looked more like a giant puddle with a whole lot of rocks. Slightly anticlimactic. Later on we went out for a yummy dinner at a local asian restaurant and then drove to a spot we randomly came across earlier on in the day so Ryan could get some more astro shots. And whilst I sat on the rocks by the shore waiting for Ryan to get his shots, I started thinking to myself 'man it would be so cool if I got to see a shooting star' and I kid you not a few minutes later I saw the biggest shooting star slip away beside the Milky Way. It was actually the best thing ever.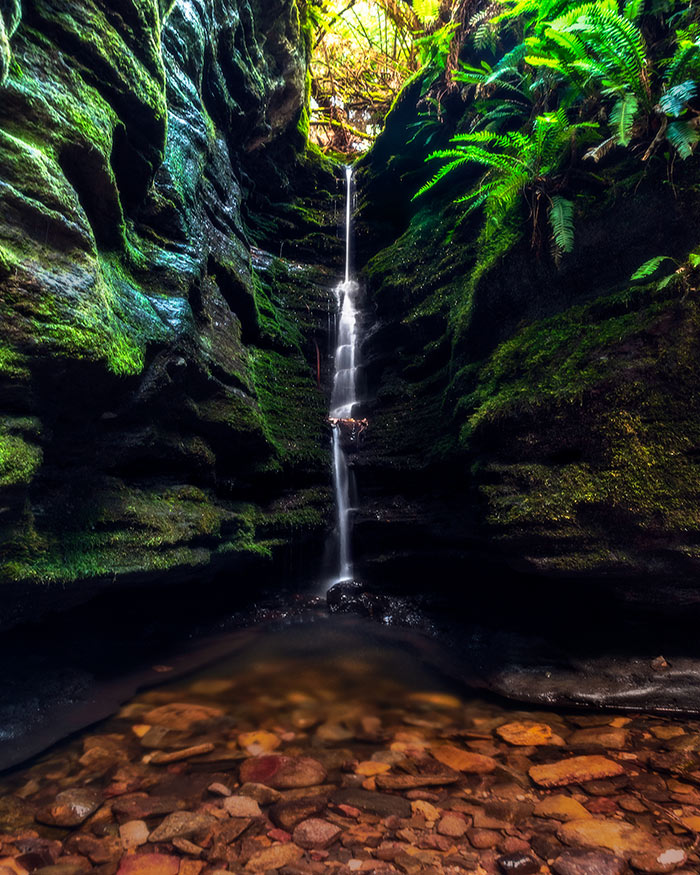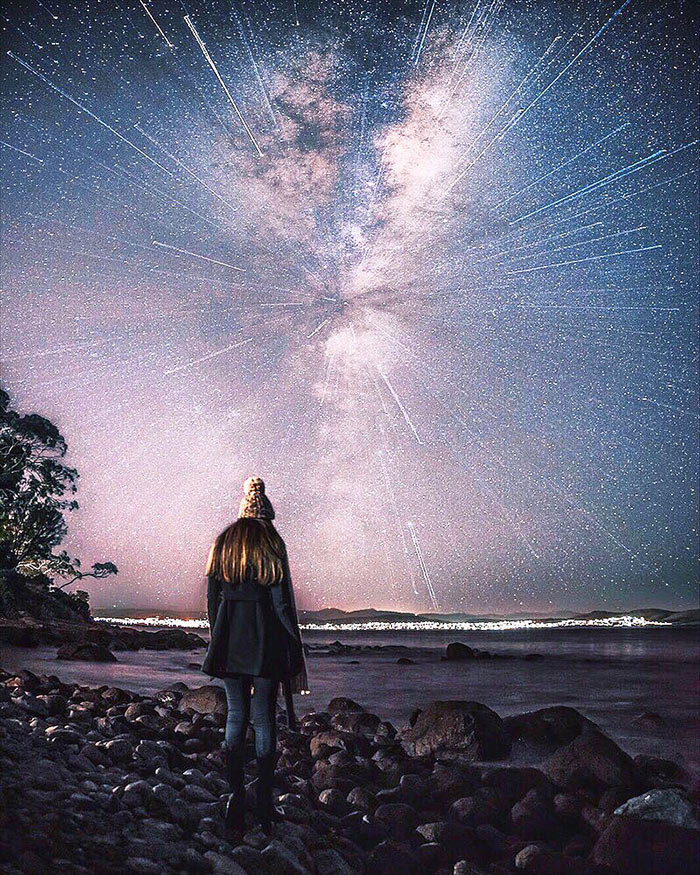 SUNDAY //16th of July
Our last full day in Tasmania. And surprise, we went to more waterfalls. However, these waterfalls were about an hour's drive, which gave us plenty of time to sightsee along the way. We did notice, though, that as we got closer to our destination the car's temperature gauge gradually dropped down to 1 degrees celsius. Hmmm, ok, that's pretty darn cold, but it's only a short walk right? Wrong. The half hour trek we had expected ended up being a two and a half hour trek. But, despite this and the fact that it was so cold you couldn't feel your face, the waterfalls were INCREDIBLE. There were three different waterfalls: Lady Barron Falls, Horseshoe Falls and Russell Falls. I mean, just take a look at Ryan's photos. Insane. I particularly loved the Horse Shoe Falls, but I also couldn't get over the size of Russell Falls! If you ever visit Tasmania I would highly recommend visiting these waterfalls!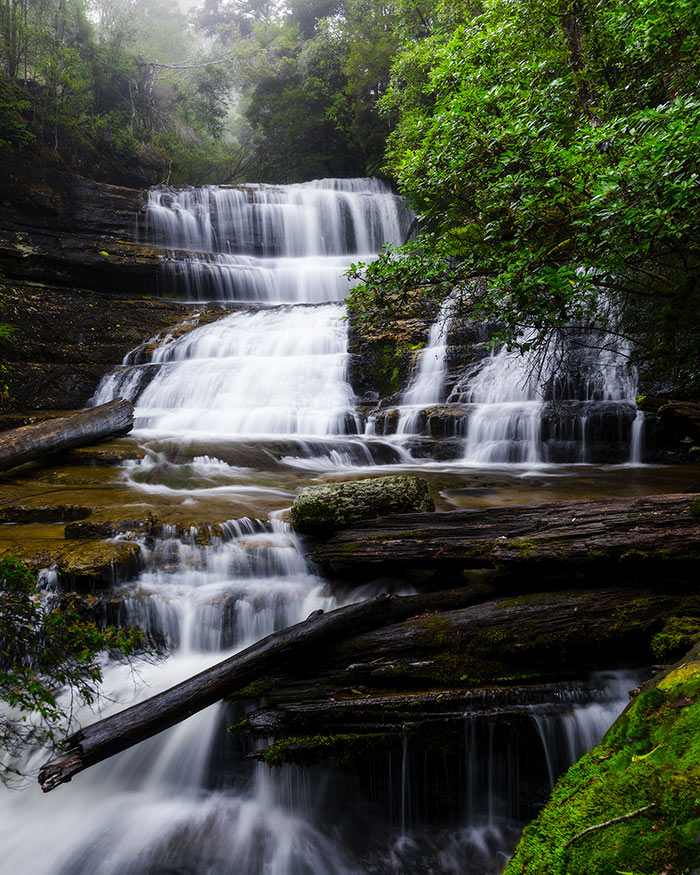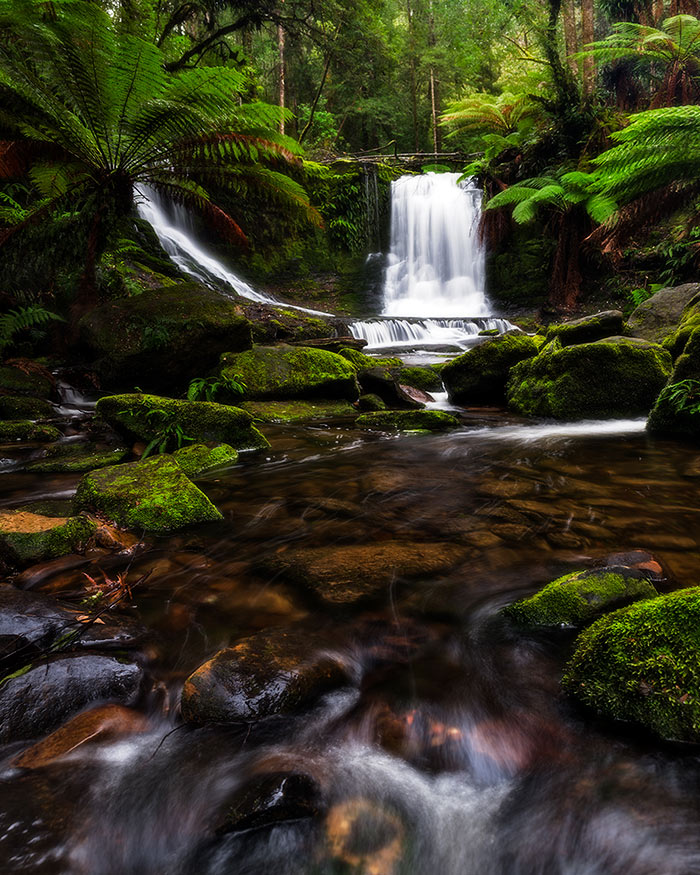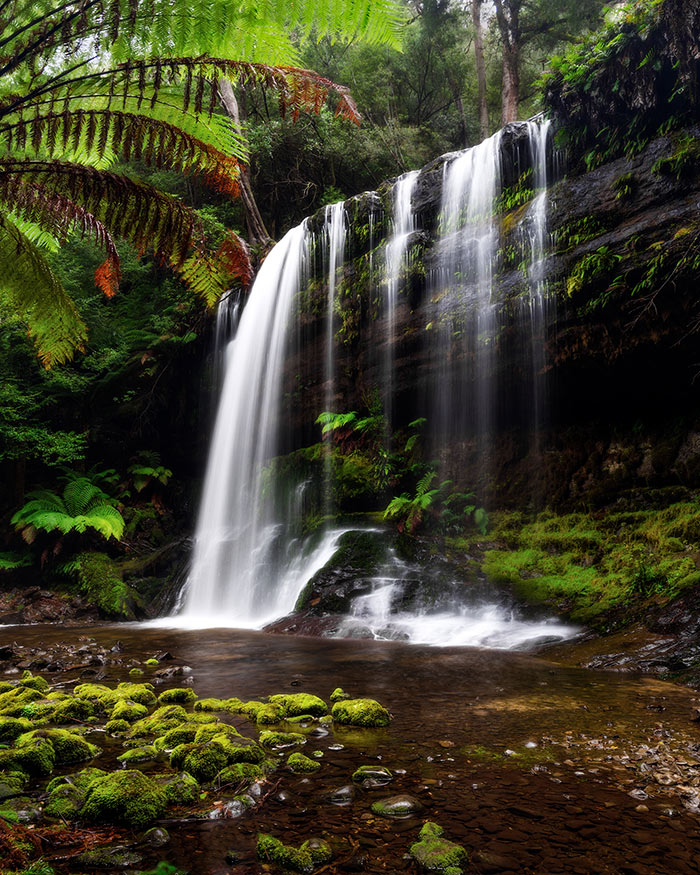 From there we decided to drive further up the mountain because 1) Ryan had seen a car driving in the opposite direction that was covered in snow and 2) I had spotted signs mentioning something about a ski field. So, of course, we had to go explore because… snow. We then started driving up the somewhat sketchy track and soon enough little icy clumps of snow started dotting the side of the road until all you could see was a white winter wonderland! I was like a kid on Christmas Day (or me on Christmas Day… same deal). We then proceeded to do all the typical snow activities – throw snowballs and such. It was definitely one of the highlights of the trip!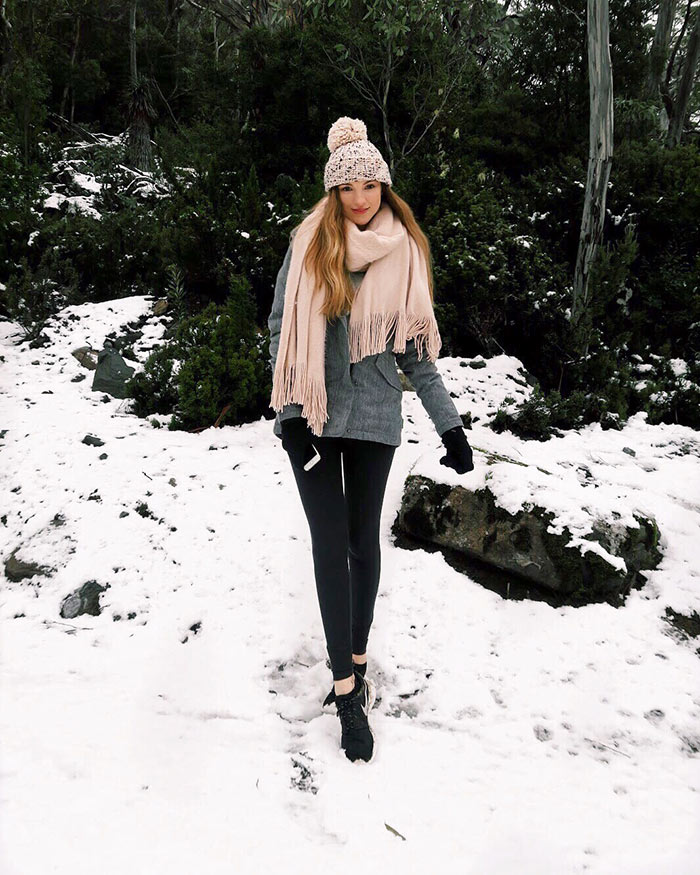 And then just when you think it couldn't possibly get any better, the aurora sites online were saying that the aurora would be especially strong that night. So after a whole lot of driving we eventually found the perfect lookout and so did many others by the look of it. Although we were all of different ages and backgrounds we all had one thing in common, none of us had ever seen the aurora before. So, we all crowded around talking and shivering, patiently waiting for the green and pink lights to dance around the sky. We continued to wait. And then we waited some more. And then somewhere through all the waiting we all decided to wait in our cars to hide from the icy winds. Four hours later and still no show. Although the aurora kept increasing in strength, the cloud cover was just too strong for it to penetrate through and although we waited, there was never any break in the clouds. Ah well, one day! We made it back to our Air bnb in the early hours of the morning and managed to get some sleep before our trip home.
---
And that's it for our adventures in Tasmania! I really hope you guys enjoyed reading about mine and Ryan's adventures! It was definitely one of my favourite trips I've ever been on; Tasmania is so incredibly beautiful. Anywho, I hope you're all having a wonderful start to the week! x
P.S. Sorry this post was a little late – my computer and USB crashed last week taking with it so much of my uni work that now has to be redone 🙁 But on the bright side, I now have a shiny new laptop ha!
P.P.S. How amazing are Ryan's photos?! I still can't get over them!! If you want to see more, check out his insta: @framegrabs 🙂