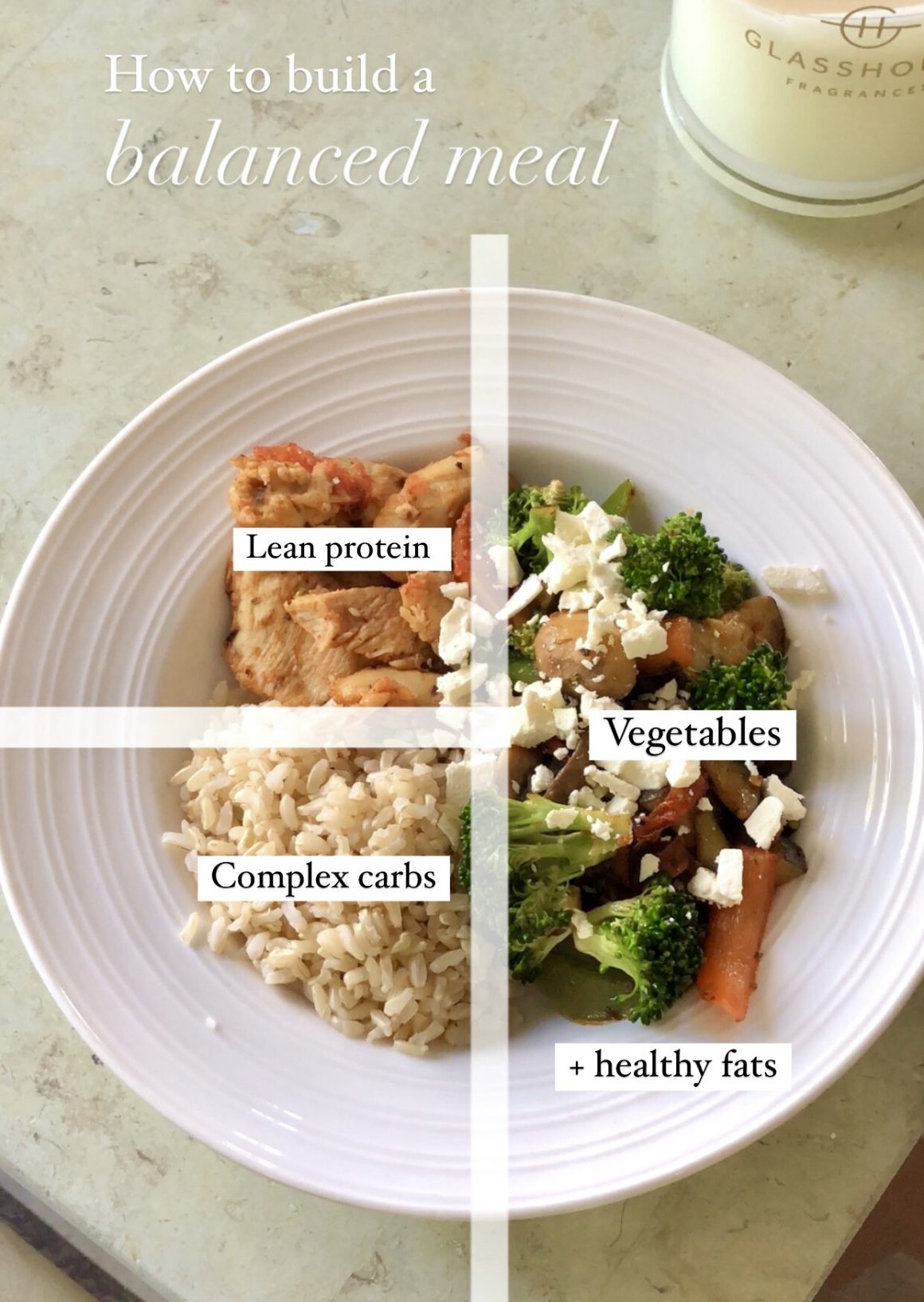 If you follow me on instagram, you know I'm all about building balanced meals. So, let's talk about what a balanced meal is, why they're important to good nutrition and an easy formula for you to build your own.
What is a "balanced meal" and why is it important?
A balanced meal is a meal that is nutritionally balanced in that it offers a variety of macronutrients (carbohydrates, protein and fat) and micronutrients (vitamins and minerals). Building a well-balanced meal gives you a variety of nutrients, keeps you feeling fuller for longer, and provides sustained energy throughout the day.
Increased variety of nutrients.
By including sources of complex carbohydrates (found in grains, vegetables, fruit and beans), protein and healthy fat into each meal, you're increasing the variety of nutrients.
For example, when you incorporate complex carbohydrates into your meal, you're increasing your fibre intake which is important for digestive health and your gut microbiome. By incorporating protein you're supporting your muscles, bones and hormone and enzyme production. Lastly, by adding healthy fats you're supporting your heart health and your body's ability to absorb fat-soluble vitamins.
By doing this, you're much more likely to meet your nutrient requirements.
Keeps you feeling fuller for longer.
Including complex carbohydrates, protein and healthy fats not only give you a wider variety of nutrients, it also keeps you fuller for longer. Protein and fats take longer to be broken down and utilised by the body than carbohydrates (particularly simple carbohydrates found in biscuits, chips and other processed goods). Therefore, a meal comprised of mostly carbohydrates (e.g. white bread with honey) will not keep you full for as long as a balanced meal (e.g. eggs on toast).
Sustained energy levels.
Seeing as a balanced meal takes longer to be broken down and utilised by the body, you'll have a sustained release of energy in between your meals/snacks. No hangry-ness over here 🙅‍♀️
The Formula
Ok, now for the fun part. To build a well-balanced meal, there's a simple formula you can follow:
+ 1/2 of the plate vegetables
+ 1/4 of the plate protein
+ 1/4 of the plate grains or starchy vegetables
+ Healthy fats (e.g. 1 tbsp of olive oil)
+ Season with herbs and spices
And if you're more into visuals, check out my instagram reel on it here.
Now, this doesn't need to be followed strictly, it's merely a gentle guide. Likewise, in the following sections I've included standard portion size examples for guidance, but always listen to your body and let that guide you also.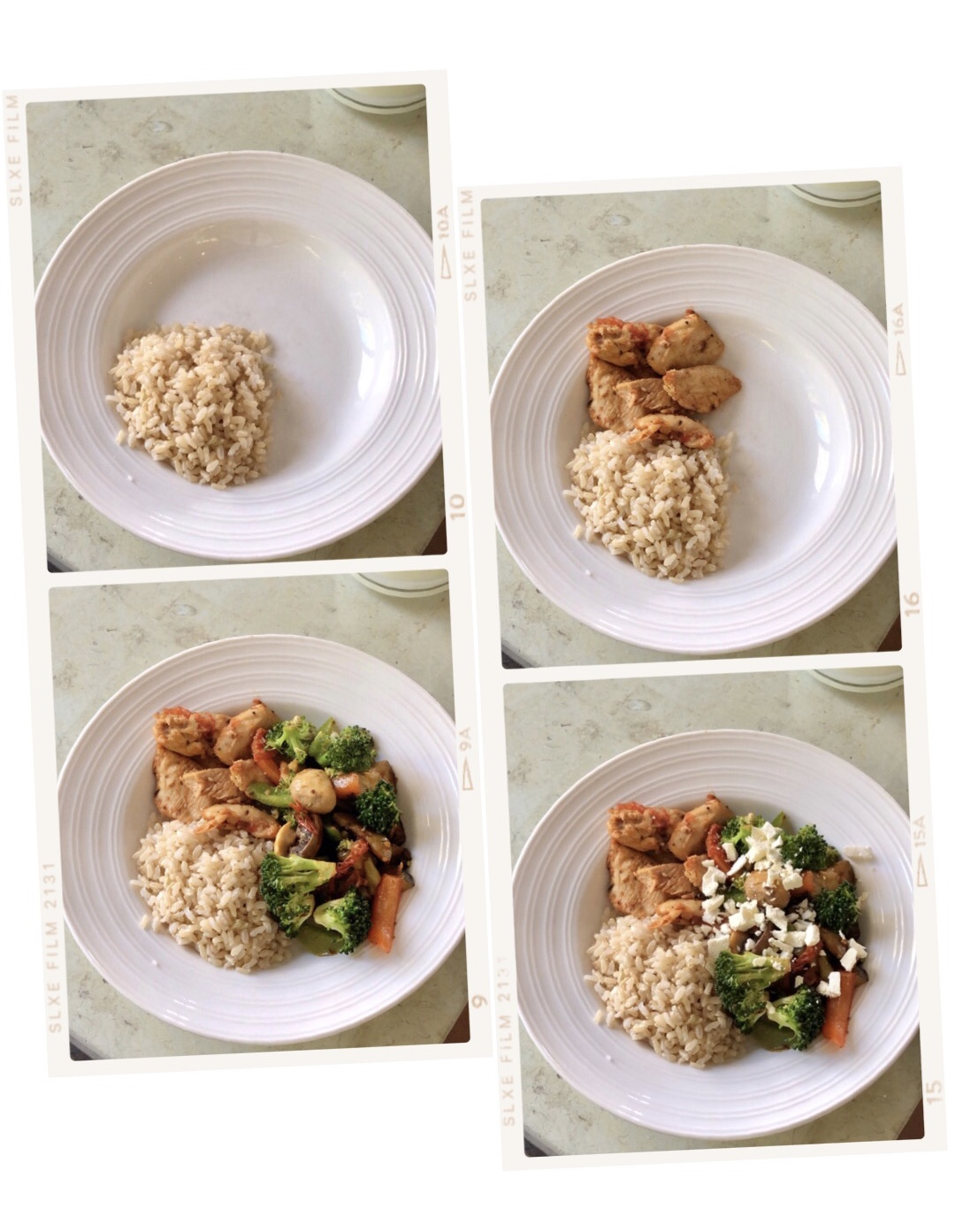 Vegetables & Fruit
Aim for half of your meal to be filled with a variety of colourful vegetables and fruit. These are packed full of fibre, vitamins, minerals and phytonutrients.
Salad, or raw vegetables: 2-3 cups or more
Cooked vegetables: 1.5-2 cups or more
Grains and Starch
Aim for a quarter of your plate to be filled with grains such as rice, pasta, quinoa, oats, etc. Or you can also sub in a starchy vegetable like white potato and sweet potato.
Pasta or noodle: 1/2-1 cup cooked
Rice or grains: 1/2-1 cup cooked
Sweet potato: 100-200g
Corn: 1 cob or 1/2-1 cup of corn kernels
Grain bread: 1-2 slices
Legumes or lentils: 1/2-1cup or 75-150g cooked or canned
Protein
Aim for a quarter of your plate to be filled with a protein source, including lean meat, fish, eggs, and plant-based options such as tofu.
Lean meat – beef, lamb, pork: 150g raw or 120g cooked
Skinless chicken or turkey: 150g raw or 120g cooked
Fish and seafood: 170g raw or 150g cooked
Tofu: 170g
Eggs: 2 large
Legumes or lentils: 1 cup (150g) cooked or canned
Reduced fat cheese: 40g or 2 slices
Healthy Fats
Add in some healthy fats by cooking your meal with olive oil, adding olive oil to salad dressings, or topping your meal with nuts, seeds, avocado and cheese.
Extra virgin olive oil: 1 tablespoon
Avocado: 3 tablespoons
Herbs & Spices
Don't forget herbs and spices! Satisfaction matters, and the addition of herbs and spices can boost the taste of your meals.
Recipe:
Oh and for anyone wanting the recipe to the meal in the photo used above, here you go! This throw-together mediterranean-inspired meal turned out SO yum.
Sliced a chicken breast into smaller pieces and marinated it in 2 tbsp of garlic-infused olive oil, 2 tbsp of lemon juice, 1-2tsp of italian herbs, salt and pepper. Let that sit for an hour or so.
Cooked 1/2-1 cup of brown rice.
Grilled the chicken in a pan and once cooked through, added half a punnet of cherry tomatoes, 3 mushrooms, half a head of broccoli, a third of a capsicum and half a zucchini. Added EVOO when needed.
Served chicken and vegetables over brown rice and crumbled feta on top.
(About 2 serves)