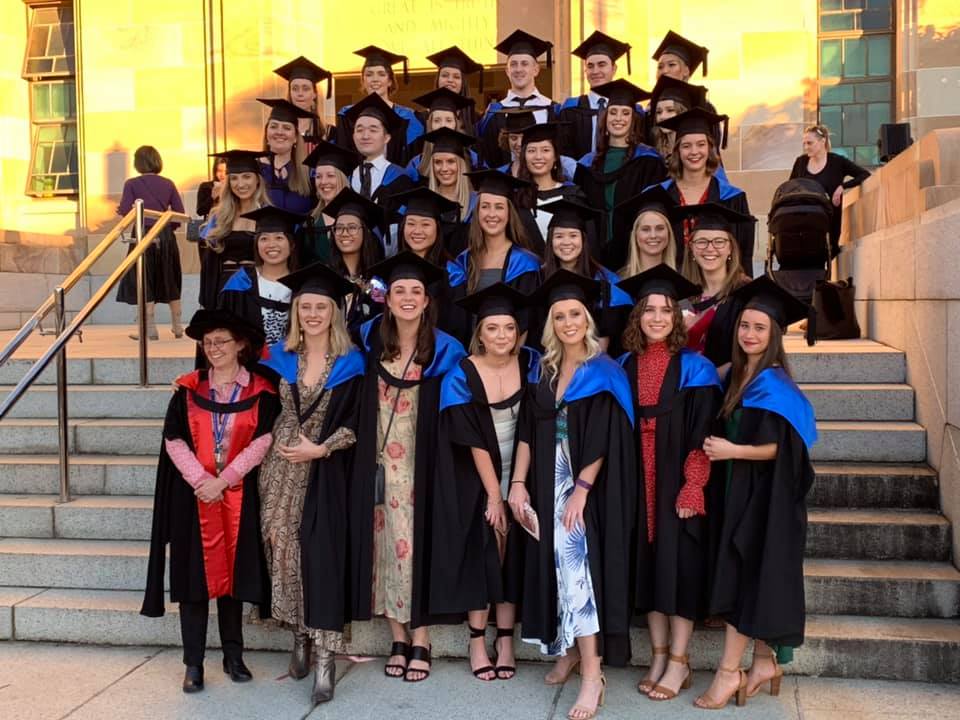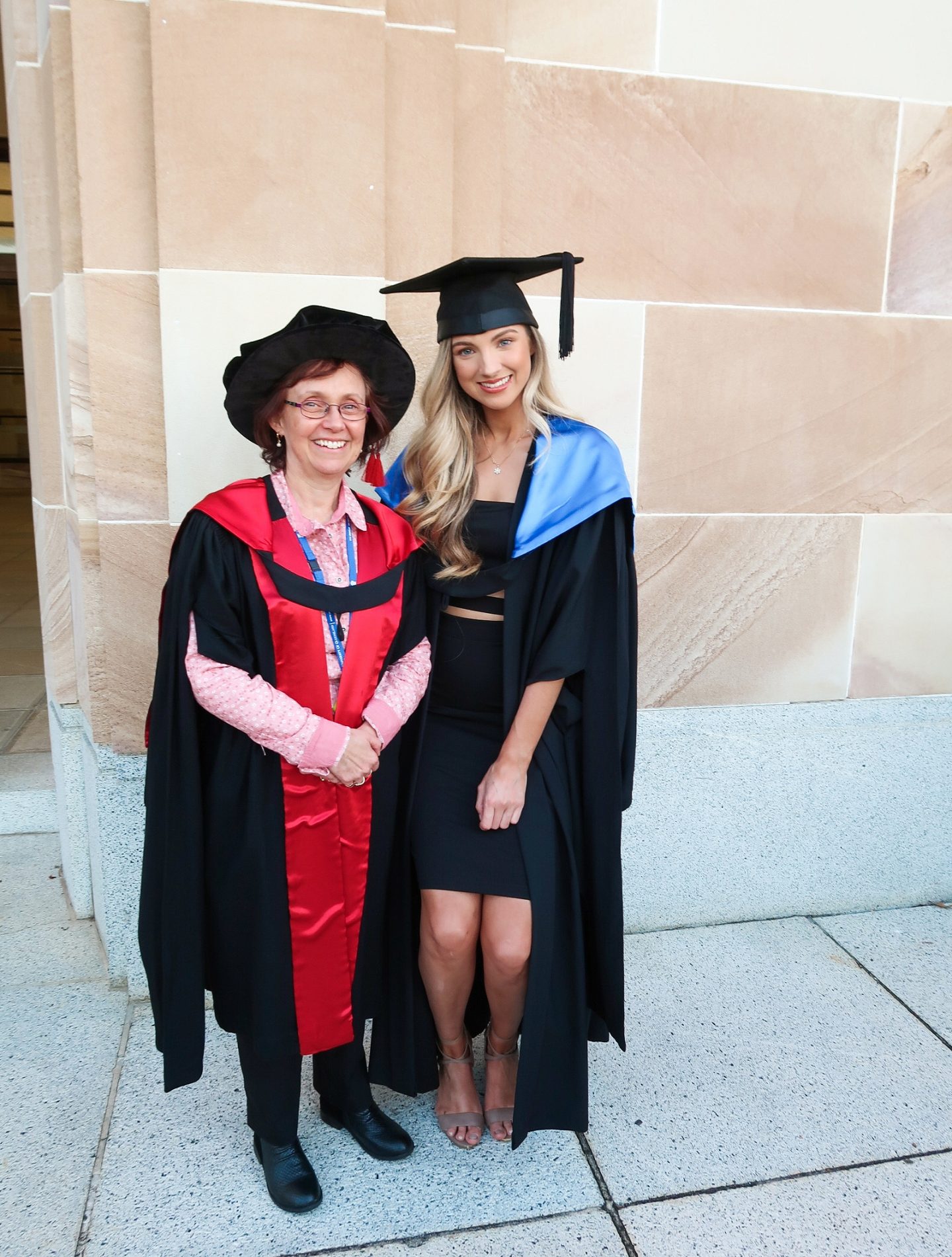 Graduation
CLASS OF 2019. To quote Elle Woods, WE DID IT!
Last July, I graduated with my master's degree in dietetics, making me a fully-fledged dietitian. YAY!
I'm so grateful for my time at university; for the opportunity to receive an education from one of the best universities, for meeting so many lovely people and for expanding my knowledge on all things dietetics-related. Most of all, I'm grateful for the opportunity to prove to myself that I could do it. I've faced more obstacles than I ever could have imagined; it took sacrifice, grit and determination and I'm so proud of myself for preserving in times where I didn't think I could. It may be cheesy, but you really can do anything you set your mind to.
Anyways, enough soppy-ness (it's totally a word…).
Today I thought I would give you a little insight into the journey of becoming a dietitian. When first looking into dietetics, I had NO idea what to expect. Compared to other professions, dietetics is still relatively new and although it is rapidly growing, there isn't too much information about what you do as a dietitian, let alone what it's like studying to become a dietitian. So, if you've ever considered studying dietetics but wanted more information as to what it's like, just keep reading!
To become a dietitian in Australia, you either do a Bachelor's Degree that includes Dietetics Studies (e.g. A Bachelor of Nutrition and Dietetics), or you study a Bachelor's degree related to health/nutrition and then do a Master's Degree in Dietetics.
Obviously, I chose the latter. Firstly, it was the only option at The University of Queensland where I was already studying a Bachelor's Degree in Biomedicine (Honours) – yep, I originally went into uni to become a medical researcher or a doctor! After being ill in high school, with a condition that was rare for a teenager (…and no explanations as to why) I was determined to a) figure out my bizarre (and overly sensitive) bod and b) help others who have been in similar (or worse) positions. However, I soon realised that perhaps biomedicine wouldn't give me the answers that I needed and so instead, I moved over into dietetics, starting with a Bachelor's Degree in Exercise and Nutrition Science (which may be surprising to anyone who ever saw me attempt sports in high-school). The second reason as to why I chose to do a Masters Degree in Dietetics was so that I was recognised internationally.
Personally, I loved that my first degree contained both nutrition and exercise components. I may not be particularly enthused over sports, but I do appreciate exercise and find physiology so fascinating. To me, nutrition and exercise go hand in hand and an understanding in one facet enhanced my understanding in the other. So what did the degree look like? Well, aside from physiology and nutrition, other main areas of study included food science, chemistry (I thought it was going to be the death of me), biochemistry, biology, anatomy, statistics and psychology. There were also a few more sports-related subjects (e.g. sports coaching), but I tried my best to dodge those ones and opted for more psychology instead haha!
A little tip for when you apply for the bachelor's degree: if applicable, choose the option that also includes automatic entry into the dietetics program (so long as you meet the requirements, that is). At UQ it's referred to as 'Bachelor of Exercise and Nutrition Sciences / Master of Dietetics'.
It would definitely give you a little more piece of mind, as entry into the Master's program is highly competitive! Unfortunately, I didn't know this was a thing until it was too late. Of course, I was still able to apply for the Masters of Dietetics program, but because I didn't have that safety net, I had to ensure my GPA looked really great to give me the best chances of being accepted!
Anywho, back to the Bachelor's degree…
Tips of surviving your Bachelor's degree:
An obvious one – stay on top of your work all throughout the semester! Leaving things to the last minute can lead to a whole lot of stress and silly mistakes.
The compulsory courses/units are quite broad, meaning a lot of your lectures will have hundreds of people and the chances of seeing the same groups of people in all your classes are quite slim which makes it hard to form friendships. If you happen to vibe well with one of your classmates, why not plan a study date? If you're struggling to find friends in your classes, why not join a social group? I completely undervalued how important it is to form friendships in my undergrad degree, from being able to help each other with your studies to just having someone there for support.
Don't compromise your health for grades – you may think trading in a healthy meal for extra study time is a good idea, but the best way to stay mentally sharp is to look after your mind and body! MAKE the time to eat well, move your body and do things you enjoy.
Remember the why's. It's easy to lose motivation and inspiration when you're buried under assessment or studying for a class you're not passionate about. The trick is to remember why you are doing this – what does this mean to you? Why are you studying this? What are your future aspirations? What will these qualifications allow you to do? Write a list down on your phone or on a mood board and reflect on it anytime you're feeling overwhelmed.
Don't be hard on yourself. Got a bad result on an assignment or exam? Pick yourself up, learn from the feedback and try harder next time. I don't know anyone who's had a perfect run. I can recall several times when I wasn't happy with an assignment or exam result. But you know what? I picked myself up and kept going and still got into Dietetics – something I would not be able to say if I had given up.
If you're having trouble understanding the content, make sure you attend the tutorials (where you can ask for additional help) and email the lecturer (they're usually happy to help through answering questions and redirecting you to additional resources). If you're finding that's still not helpful, I would recommend looking for additional sources of information (e.g. platforms like Khan Academy). In fact there were many a times when studying Chemistry and Biochemistry where I would turn to Khan Academy and Youtube Tutorials to get a better hold of the content because I'm more of a visual learner.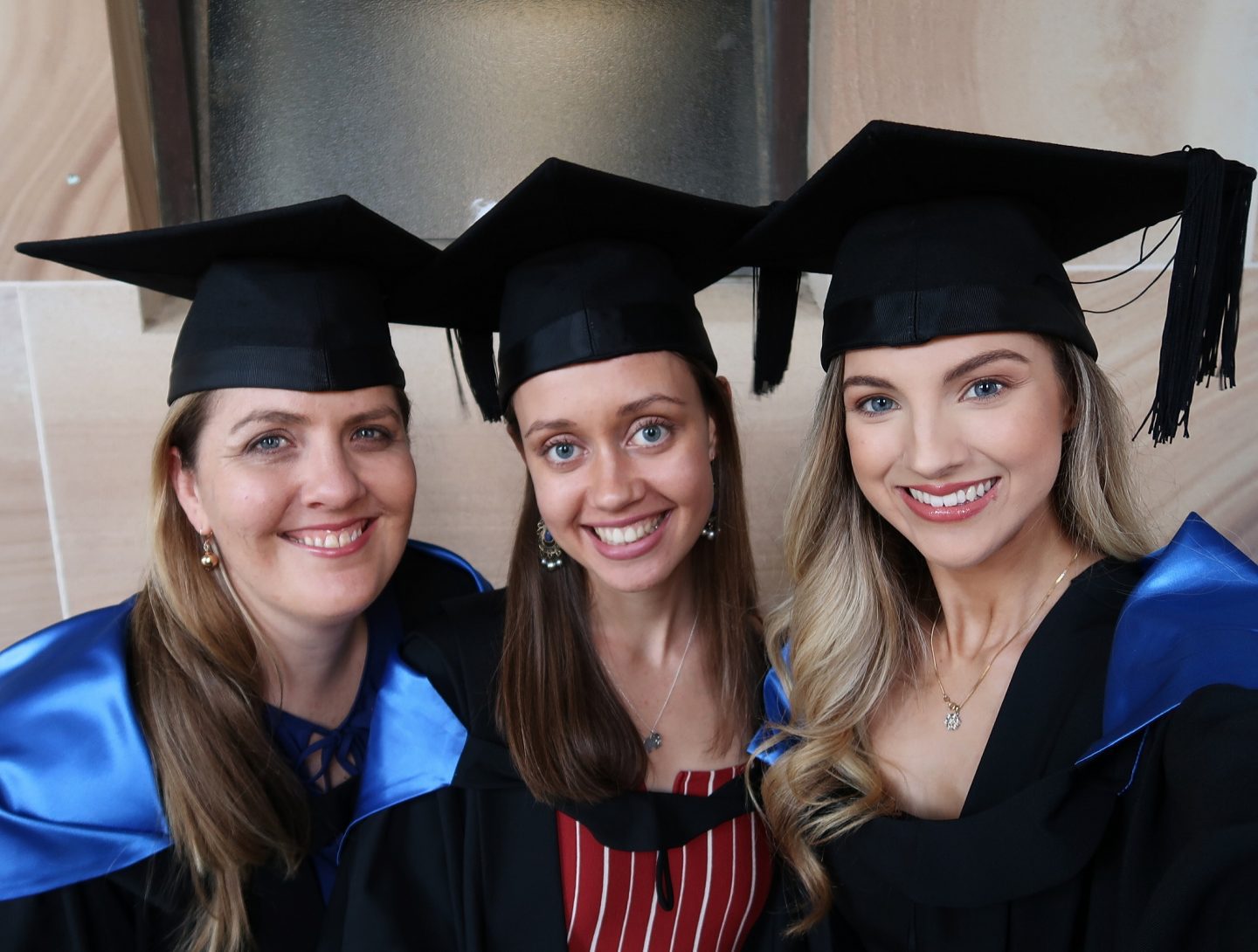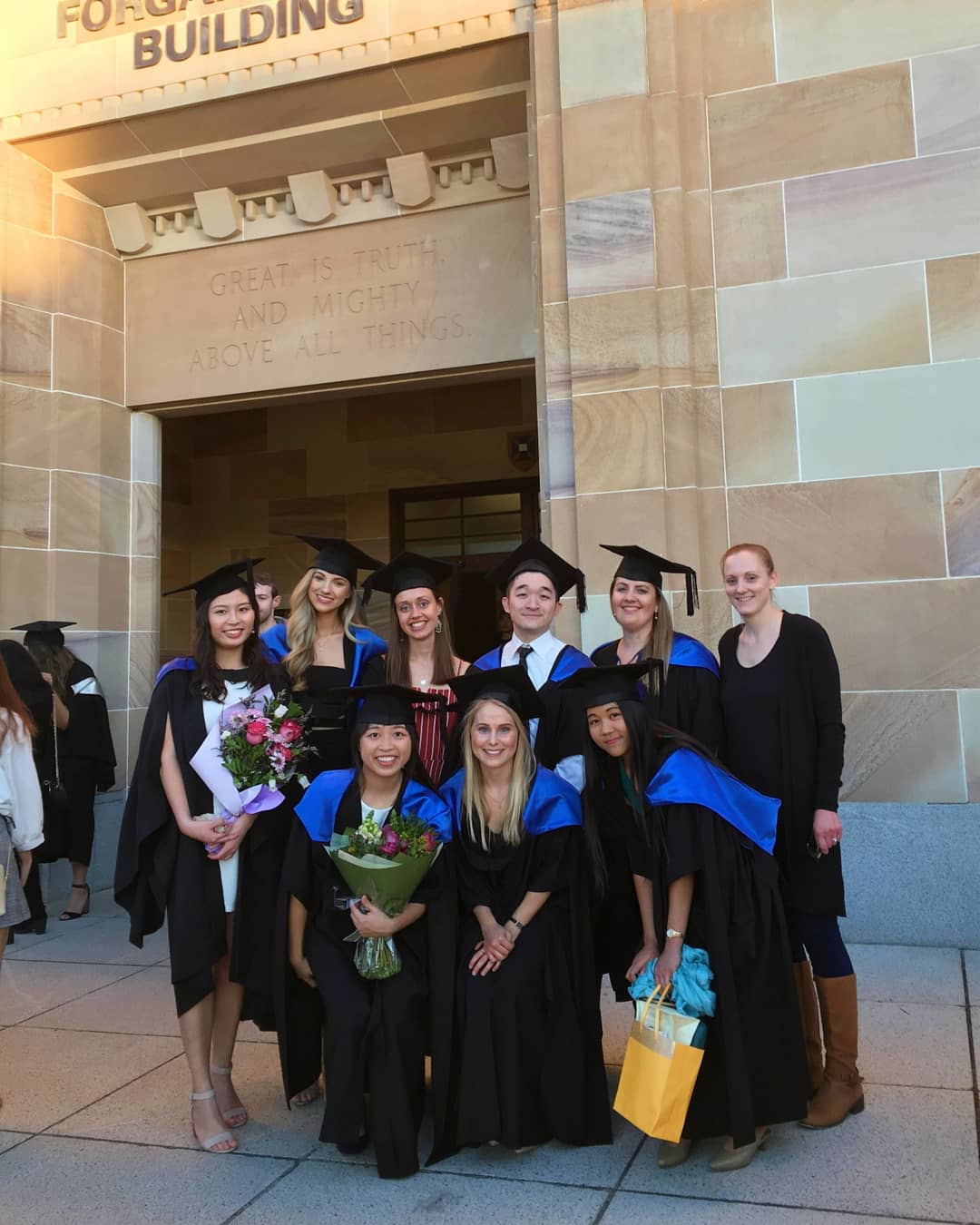 Ok, onto the part you're probably most curious about, The Masters of Dietetics Program. Quite possibly the most intense year and a half of my life. Intense, but oh so worth it. The amount of knowledge and experience you gain within this timeframe is unbelievable.
So, I would go into specifics about courses/schedules, BUT the dietetics component of every university is run so differently. Even the university I attended had planned on tweaking the course work/scheduling for years to come. So instead I'll give you a little taste of what you can expect, based on my own experience.
To start with let's break it down into course work and placements….
Course Work // At the university I attended, workshops focused on Medical Nutrition Therapy, Interviewing & Counselling, Applied Food Sciences, Food & Nutrition Service Management and Evidenced Based Practice in Dietetics. Medical Nutrition Therapy, in particular, was the biggest course of them all and focused on how nutrition can be manipulated to improve the health (and prevent malnutrition) in those who are acute or chronically ill. Every 1-3 weeks you would discuss the nutrition therapy for a different condition/situation. This was probably my favourite of all the courses!
Placements // As for placements, at the beginning of the semester/year we were assigned to a specific hospital, clinic and aged care facility to undertake our 'Professional Practice in Medical Nutrition Therapy' and our 'Professional Practice in Nutrition and Dietetics'. When it came to hospital placements I also decided to specialise in paediatrics so for the hospital component I got to attend both children's and adult hospitals! If you have the option to do this and you like working with children and in a challenging environment then I would highly recommend it. Although it was more intensive, I gained so many valuable skills.
However, in general, placement consisted of conducting screenings, nutrition assessment and nutrition management with patients/clients with all different conditions/situations/backgrounds. Until you're confident to do this under indirect supervision, you will see patients/clients with both a peer as well as your preceptor/supervisor which is typically a dietitian working at the facility who has kindly taken on students to supervise. They will provide you patients/clients to see, feedback on how to improve your practice and in the early stages, step in if you get a little nervous.
Tips for succeeding on hospital placement:
Always be professional/respectful in companies workplaces.
At first, you may be really feeling the nerves (I know I did). Try your best to transfer the focus on what you're doing to caring about the patient and you'll find that the processes come much more naturally.
Although you may be stressed, always be kind to those around you, including your peer! Furthermore, if your peer is struggling, give them a hand. This isn't a competition; everyone should help each other.
Try to find out what your supervisor's workload (e.g. cardiac, gastrointestinal, etc.) is for the upcoming week, if applicable, so you can refresh your notes and come to placement feeling confident.
Make sure you have all the necessary resources with you, such as nutrition care process documents, peer evaluations (if your university uses that system), ready reckoners, calculations for estimating protein/energy/fluid requirements, calculations for enteral/parental feeds and any other documents needed.
Put all of your placement documents into a folder with sleeves (better yet if it can zip up such as a compendium) and keep some pens/pencils, calculator, notebook, access passes (when you're not wearing them) in the sleeves.
As soon as you have started placements, record into your notebook your preceptor/supervisor details such as name, workload, email and pager number.
At the back of your notebook, start compiling a list of the medications you frequently come across in patients charts and write down what they're used for. This will make life so much easier for you.
Similar to above, write down all the abbreviations you frequently come across in your notebook and what they mean. Trust me, doctors/specialists LOVE abbreviations.
Carry a water bottle and a couple of snacks with you. You will have longggg days, so it's best to stay hydrated/alert.
If you're unsure of something and can't find the answers through resources, ask your preceptor/supervisor as soon as possible (& when they're free – they're also incredibly busy!). You're better off knowing sooner rather than later.
Be gracious with feedback, it's only going to help improve your practice.
If you're placed with someone you don't particularly like, use it as a great opportunity to learn to work with all kinds of people. If you feel as if you're being treated unfairly, don't be catty about it, bring it up maturely to your program coordinator. However, I never had this issue and I'm sure you won't either!
In terms of scheduling, the first two semesters consisted of 1-2 full days of workshops, 2-3 full days at placement (hospital / dietetics clinic / aged care food service) and whatever time was left was poured into assessment (which, sorry to say, there was a lot of). In the third, and final, semester, you had two lots of four full-time week blocks of industry placement with an assigned nutrition/food-related company, which is what we're going to talk about now.
Industry-related placements are typically a lot of fun, as you have the opportunity to gain more experience in fields you're more interested in (or try new fields you never considered). So for example, you can work alongside food development companies, nutrition companies, food service companies, community public health programs, hospitals and private practices. For me, I was really lucky with both my placements as I got to combine not only dietetics but my passion for social media and creativity. In one placement I got to work with a large food service company and write blog posts and create photo and video content. In the other placement, I got to work at a wonderful private practice and create customised resources and observe the inner workings of private practice.
Ok, I think I'm going to leave it there. I've attempted to cover as much as I can whilst keeping this blog post at a reasonable length ha! Hopefully this post has given you a little more insight as to what is involved in studying Dietetics. If you have any further questions, feel free to comment below or DM me on social media and I'll get back to you as soon as I can 🙂
Until next time! x