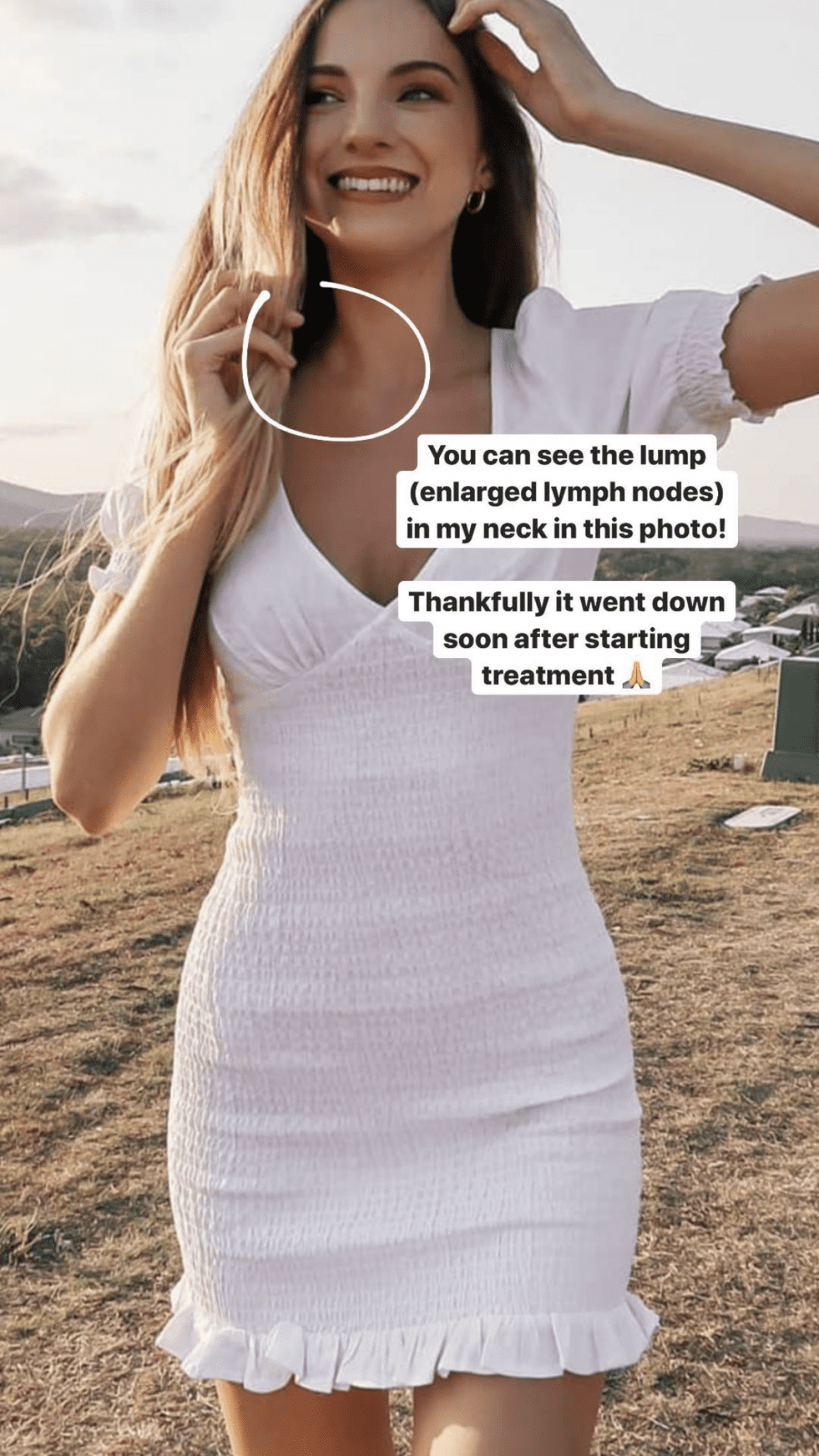 This month is 'Blood Cancer Awareness Month' and today is 'World Lymphoma Awareness Day', so to help spread awareness I have decided to share my own cancer diagnosis story. For those of you that do not know, I was diagnosed with [Classical] Hodgkin's Lymphoma in 2020. I'm now coming up to being 2 years in remission, and want to do my small part in helping raise awareness. My hope is that by sharing my own story, alongside practical tips, someone will get to their diagnosis sooner.
My Diagnosis Story
Let's take it all the way back to March, 2018, where I found a pea-sized lump in the crevice of where my neck meets my collarbone, or more formally known as the right supraclavicular region. It just so happened to be the week we were studying oncology at university. Freakishly ironic don't you think? The lump wasn't necessarily painful, but it was uncomfortable, it felt like something was out of place. Over the coming days this lump grew and I booked in an appointment with a local GP where I was then quickly sent off for blood tests, ultrasounds, and even a breast exam (enlarged lymph nodes in this region can sometimes be a sign of breast cancer). All test results came back fine and to be honest, I figured as much because by the time I received the results, the lump had vanished.
Now, to cut a terribly long story short, this continued for another two years. Every 3-6 months I would get a surprise visit from this unwelcome guest and there was never any telling to how long it would stay, sometimes a week or sometimes for months on end. However, as time went along, it would bring friends, including a persistent cough and colds/infections. Each time this occurred, I would make my way back to the doctors where more blood tests and ultrasounds would ensue, with every test coming back as abnormal but nothing sinister, with the phrase "it's most likely an infection". This of course, was further validated by the fact that between bouts of illness, I would return back to my healthy normal self, free from symptoms.
By the end of 2019, we all agreed that this cycle had been going on for far too long and I was sent for an FNA (fine needle aspiration) biopsy. After a nerve-wracking week, the results were in…
…and to my relief, the cells weren't malignant. [Please note: FNA biopsies can be inaccurate for testing Hodgkins Lymphoma]
As we all know, that wasn't where the story ended.
Ready for a big 'new year, new me' moment, and the train wreck that was 2020 rolled around.
Fast forward to July, my symptoms had been persisting, worsening even, and I needed to get to the bottom of it once and for all. If it wasn't cancer, then what was it? So, I changed to a different GP to get a fresh perspective and although cancer had been previously ruled out, they sent me for a chest x-ray just in case. Several hours later I was called in to receive news that would flip my world upside down. Alongside the lump in my neck, laid a large tumour in my chest.
Whilst much of this appointment has conveniently been erased from my memory, I do clearly remember the doctor telling me that the tumour measured 11cm x 13cm, and it was most likely cancerous.
To rub salt into the wound, my GP then sent me for a CT scan to get a more detailed look at the mass and along with it found the possibility of a blood clot in one of the main blood vessels in my chest. Supposedly in an area that would have been difficult to access if need be. How comforting. With this information, I was quickly sent off to see a haematologist (a specialist doctor that treats conditions that affect the blood) at the cancer clinic in the hospital. What followed was a blur of tests, scans and hospital appointments.
In order to get to my diagnosis, two particular tests were needed: a core needle biopsy to confirm my haematologist's suspicions of Hodgkin's Lymphoma and a PET-scan to determine the staging.
However, the looming risk of a blood clot threatened to complicate matters. You see, a core needle biopsy will extract samples of tissue that are then analysed and for this procedure, it helped that I had enlarged lymph nodes protruding from my neck. Easy access, I presume. On the other hand, we wanted to shrink those masses as soon as possible to alleviate any pressure from the blood vessel in question. Thankfully, I had not yet experienced any concerning symptoms of a blood clot, so we were free to safely go ahead with the biopsy. All went smoothly and within a couple of days I was placed on medications to prevent the blood clot.
After five days, both the biopsy and scan were completed and we had my final diagnosis: Classical Hodgkin's Lymphoma 2A, unfavourable and with bulk. Basically, this diagnosis meant I was considered early stages as the cancer was contained to my chest and the base of my neck, but the tumour was bulky and because of this my treatment plan fell in the 'unfavourable category' meaning escalation of chemotherapy and radiation would be necessary if the first-line treatment (ABVD chemotherapy) wasn't showing improvement after two months. Whilst I still can't bear to think of any cancer as being a 'good cancer', this was the best possible case given my symptoms and for that I'm very thankful.
Before, I go into the more practical side of things, I just wanted to highlight what an emotional rollercoaster this process is. No-one is ever prepared to be told they have cancer and the road to a diagnosis can be overwhelming. To anyone currently going through this process, I'm sending you all my love.
Hodgkin's Lymphoma: The Basics.
*Please note, that I am not a Doctor, and the following information is from my own personal experience, and information provided by cancer organisations, such as the Cancer Council.
What is it?
Hodgkins lymphoma is an uncommon type of blood cancer that develops in the lymphatic system. There are different types of Hodgkins Lymphoma, with the two main being Classical Hodgkin Lymphoma and nodular lymphocyte-predominant (NLPHL) (1). To learn more about Hodgkins Lymphoma feel free to check out this information page by the Cancer Council.
How common is it?
Hodgkins Lymphoma is considered uncommon/rare with about 780 people diagnosed each year in Australia (1).
Who gets it?
Classical Hodgkins Lymphoma can occur at any age but it is more common in younger people aged 15-29 years old (1).
What causes it?
The causes of Hodgkins Lymphoma are still relatively unknown, however, there are a couple of factors that may increase your risk, including a weakened immune system (e.g. caused by an autoimmune disorder like rheumatoid arthritis and coeliac disease) and certain viruses like Epstein-Barr virus (the virus that causes Glandular fever) or HIV (1).
With that said, most people with known risk factors don't develop Hodgkins Lymphoma, and most people who do get it have no known risk factors.
What are the symptoms?
A lump in the neck, armpit or groin
Frequent colds/flu
Shortness of breath
Unexplained cough
Ongoing fatigue
Fevers with no obvious cause
Excessive sweating at night (commonly referred to as night sweats)
Excessive itching
Unexplained weight-loss
A note, provided by the Cancer Council (2): "These symptoms can be caused by many other conditions, such as the flu or other viruses. Most people with these symptoms do not have Hodgkin lymphoma. However, if you have symptoms without any obvious cause, see your doctor."
How is it treated?
Thankfully, Classical Hodgkins Lymphoma is very treatable at all stages, and often curable. Treatments typically include ABVD chemotherapy (or escalation to BOEDCOPP), as well as possible radiation, immunotherapy and bone marrow transplant (3).
The Road to a Diagnosis
Hodgkin's Lymphoma can be difficult to diagnose due to being uncommon and having vague symptoms. Additionally, there is a false pretence that cancer doesn't happen to anyone that is young, healthy and fit, and for this reason we're less likely to delve much further.
First and foremost, be mindful of the signs and symptoms listed above. If you do experience any, please don't panic as there may be a handful of other reasons, but do visit your local GP to rule it out. Especially if symptoms keep persisting and there is no underlying cause for them.
With the guidance of your GP you can arrange the following tests: a blood test, chest x-ray, CT scan, biopsy and PET-scan. Please note that everyone's situation is different and you may require additional or alternative tests/procedures, e.g. MRI.
Here's a brief breakdown of each test, what can expect and some tips to help prepare!
Blood Tests
Blood tests will indicate what your white blood cells are doing, particularly the lymphocytes. However, be aware that this cannot diagnose you and the results can also be masked by an infection (4).
Chest X-ray
A chest x-ray will help to locate enlarged lymph nodes within the chest (5). It's a quick, non-invasive test, but be sure to wear a top that you can easily slip off (you will be given a gown to wear) and refrain from wearing any jewellery.
CT Scan
A CT scan has different uses, but in this case it's used for pinpointing the location of any masses/tumours (6). It's minimally invasive and takes approximately 15-20 minutes. The machine is in the shape of a donut and you will move through this on a long, narrow bed, remaining as still as possible. The radiologist may also instruct you, via the machine's intercom, to hold your breath for a couple of seconds.
Prior to starting, you'll often have an IV cannula placed in your arm. This is so that a solution called 'contrast' can be injected around the halfway point. This 'contrast solution' is typically everyone's least favourite part due to the strange sensation it produces; your head will start to feel hot and this heat will then quickly travel down your body until it gets to your crotch, at which point it will give you a feeling of wetting yourself. Thankfully it goes quickly!
Other things to keep in mind:
You may be required to fast before the scan, so always check when you make the appointment.
Have a bottle of water ready for after the scan, so you can start to flush out the contrast solution.
If you've never had contrast solutions before you may have to wait ten minutes after your scan to make sure you don't have an allergic reaction.
Make sure to not wear jewellery and any clothing containing metal, pay particular attention to bra's, buckles, etc. My go-to outfit was leggings (with no zips), bralette (no buckles) and a comfy jumper where the sleeves were easy to roll up past the elbow so it didn't get in the way of the IV cannula.
Cancer Research UK have provided this helpful post which contains a video of what happens during a CT scan.
Biopsy
There are several types of biopsies and which one/s you get depends on your particular case. I had a core-needle biopsy where they used a hollow needle to remove samples of tissue (7). It was carried out under local anaesthetic, guided by ultrasound and took approximately 30 minutes (including prep). Now, if you don't like needles this process may be confronting. My biggest piece of advice is to inform the radiologist/nurses/staff that you don't like needles and ask to remain lying down or seated until you're comfortable to leave without feeling faint or sick. I made the mistake of not lying down long enough and thinking I'd be ok which, embarrassingly, resulted in me nearly-fainting in front of a room full of people and unintentionally causing quite the scene. Whoops.
If you have a tendency to faint after needles, bring whatever helps you recover from that, in my case it's water and a snack.
If allowed, bring someone with you for support. If you're scared it can help to have someone there to talk to you and take your mind off it.
If they are not able to get enough sample material to make a conclusive diagnosis then you may have to undergo an excision biopsy which is a minor operation.
PET-scan
A PET-scan uses a mildly radioactive drug to identify areas of the body where there are cancer cells (8). Basically, you will lie down on a hospital bed where a nurse will come and place an IV cannula in your arm and inject a small amount of radioactive glucose. You will remain lying down for approximately 45 minutes where you have to try and be as still as possible whilst the solution travels throughout the body (and yes, that means no phone or reading a book).
After this you are free to get up and head to the scanning room where you are placed into the PET-scanner. The PET-scanner looks very much like a CT scanner, but the 'donut' machine is longer. Similarly to the CT scan, you remain as still as possible whilst you go in and out of the scanner, and you may be asked to hold your breath for a couple of seconds. During this process the PET scanner rotates around the body and creates a picture of where glucose is being used; malignant tumour cells will show up bright in the picture because they are more active and thus take up more glucose than normal cells (8).
You may be required to fast before the scan, so always check when you make the appointment. Have some food or snacks on hand for afterwards!
Make sure to not wear jewellery and any clothing containing metal.
Cancer Research UK have provided this helpful post which contains a video of what happens during a PET-scan.
Additional Tips
Prior to my experience with cancer, I had never had any of these tests/procedures, aside from a blood test. Whilst they sounded really scary at the time, they weren't as bad as I expected! If anything they were uncomfortable and time consuming. However, the reason for having to do them in the first place can be very overwhelming. Here are some additional tips to get through them as smoothly as possible:
If there isn't any covid restrictions in place, bring someone with you to the waiting room. Although they won't be able to go any further, they could help you to feel more comfortable.
The staff are there to help you, so always check in with them if you're feeling unwell, anxious or claustrophobic.
Always have a small folder with you containing important information, such as your hospital number, your doctor's contact, a list of medications (if you are on any already), medicare information and private health information (if applicable) because there can often be a little bit of paperwork ahead of your scans.
Always have a notebook and pen (or phone) with you to record important information such as appointment times/dates/instructions.
Always have a water bottle and some snacks on hand. Sometimes they have a snack cart after your tests, but if you have allergies/intolerances be sure to have your own.
Do not Google. You've no doubt seen a dozen memes telling you why this isn't a good idea. You will most likely be given a series of contacts you can access if you have any questions.
Finally, I want to end this post with some encouraging words. To anyone that has recently been diagnosed with Hodgkin's Lymphoma, whilst these initial stages can be emotionally turbulent, things do settle. Once you have a treatment plan in place, you can find solace in knowing that you're being looked after and you quickly slip into a routine with treatments. This isn't the easiest of paths, but it's absolutely doable. You can get through this! If I can, you can too 🙂
And finally, if you ever need a friend to talk to, my instagram DM's (@chantelouisee) are always open.
Until next time,
Chanté
Sources
(1) https://www.cancercouncil.com.au/hodgkin-lymphoma/about-hodgkin-lymphoma/
(2) https://www.cancercouncil.com.au/hodgkin-lymphoma/symptoms/
(3) https://www.cancercouncil.com.au/hodgkin-lymphoma/treatment/
(4) https://www.cancer.org/cancer/hodgkin-lymphoma/detection-diagnosis-staging/how-diagnosed.html
(5) https://www.cancerresearchuk.org/about-cancer/hodgkin-lymphoma/getting-diagnosed/tests-stage/chest-x-ray
(6) https://www.cancerresearchuk.org/about-cancer/hodgkin-lymphoma/getting-diagnosed/tests-stage/ct-scan
(7) https://lymphoma-action.org.uk/about-lymphoma-tests-diagnosis-and-staging/biopsy
(8) https://www.cancerresearchuk.org/about-cancer/cancer-in-general/tests/pet-ct-scan